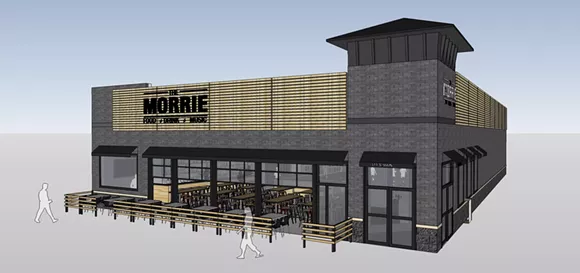 The site of the Morrie restaurant is busy with construction in advance of a planned late August opening, which will introduce visitors to developer Aaron Belen's vision of casual dining in downtown Royal Oak.
The Bloomfield Hills resident and Cranbrook grad opened Bistro 82 — and nightclub Sabrage upstairs — at Lafayette and Fourth in February 2014. This year, the French restaurant was named by Metro Times readers as the Best Restaurant in Oakland County.
The finishing touches are being put on the Morrie in a 8,000-square-foot space on Main Street at Sixth, with Birmingham architect Kevin Biddison leading the design, Royal Oak-based Ronnisch Construction Group completing the build-out, and executive chef Derik Watson in charge of the menu. Watson's resume includes stops at Iridescence, Tribute, and the Rugby Grille.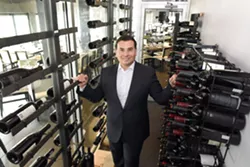 "We want to go beyond what anyone's doing on Main Street from a culinary perspective," Belen says. "We're going for any and everybody who wants great value and service."
The menu at the Morrie focuses on eclectic roadhouse cuisine, Belen says, and the restaurant will feature live music, with a stage built into the restaurant's design. The eatery's namesake is Belen's late grandfather, who Belen calls his mentor and best friend.
The restaurant revives the former Franklin Fine Wine shop space, which had sat vacant for 2 1/2 years.
After the Morrie opens, AFB Hospitality will have 150 full- and part-time employees.
During an interview at Bistro 82, Belen says there was a gap in Oakland County dining options that the restaurant fills, and it's become a destination as a result.
"A lot of people who come to Bistro 82 wouldn't otherwise come to Royal Oak."
AFB Hospitality Group — the company is named after Belen's initials — is investing in Royal Oak for the long haul, Belen says. A graduate of the Barney School of Business at the University of Hartford, the 33-year-old found his way into the hospitality industry after organizing events and parties in college.
"This is about being a business in 25 years," says Belen, who describes his development strategy as "tortoise and not the hare."
"We're going to show people that Royal Oak is a real culinary scene. You don't have to go downtown to feel like you're in a real city."
Belen says he urges other developers to come to Royal Oak.
"I want 20 more guys like me."