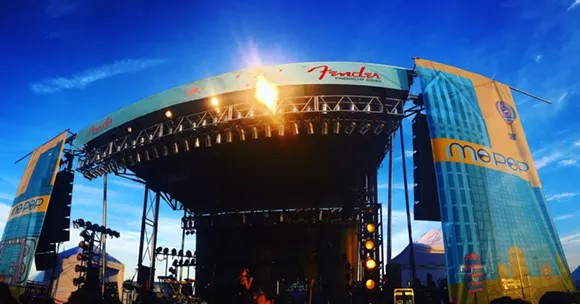 Ahh, Mo Pop. This otherwise magical summer music festival seems to be continuously plagued by insane weather. Last year there was a torrential downpour that flooded the festival grounds. This year temps soared above 90 degrees, making it feel like we were walking through the seventh circle of hell.
Nonetheless, Mo Pop showed that Detroit is capable of bringing in a massive crowd, all the while keeping things on brand. The craft beer, cool food trucks, and breezy music made for a great weekend at the West Riverfront Park. Here is a list of the best bands we saw, the yummy food we ate, and the tasty things we drank (or didn't drink).
1. Tunde Olaniran

We have a crush on Tunde and we don't care who knows it. Despite playing at the hottest part of the day on Saturday, Tunde Olaniran showed up with his signature duo of backup dancers and homemade costumes and absolutely slayed all over the Grande Stage. When he played "Namesake," a track of his latest album, the crowd got really crazy. Olaniran brought out even more dancers and had a squad behind him while they jumped and danced with so much joy and passion. It was a set that had people talking for the rest of the night.
2. Haim

Let me say this now before I get too ahead of myself, but Haim is my favorite band of all time and I was way too excited to see these mega-talented sisters finally play in Detroit after loving them for the past four years. That being said, the band did not disappoint.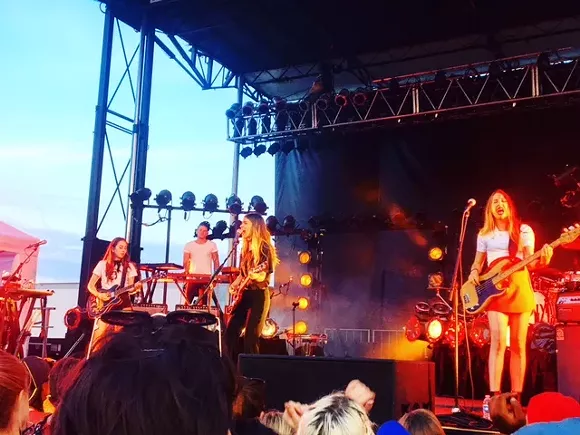 Bassist and eldest sister Este was in rare form. She cracked jokes left and right, and even called out a security guard for giving "eyes" to her younger sister Alana all the while doing the same to her. They covered "I Would Die 4 U" by Prince and played two new songs off of their highly anticipated sophomore release. It's safe to say that Haim will be coming back to Detroit soon.
3. Matt and Kim

We already knew that Matt and Kim were going to bring an electric show full of high energy madness and lots of dancing. We got that, and so much more. There were giant beach balls that seemed to have come out of nowhere and so much dancing and insanity that a cloud of dust lingered once they completed their set. The band's music may not be pushing any boundaries, but their live performance is one of the best out there.
4. Island Noodles

Out of all the food trucks that dotted the perimeter of the festival, there was nothing that compared to the deliciousness that was Island Noodles. Our first question was "Well ... what island?" when we saw the glowing sign, but once we stepped up and smelled the Hawaiian flavors, we knew what we were about to get. Their dishes were nothing revolutionary or "artisan" by any means, but their food was delicious, filling, and the perfect for eating on the go at a music festival. And real talk — the man cooking the Island Noodles in the 95 degree weather was the real MVP of Mo Pop.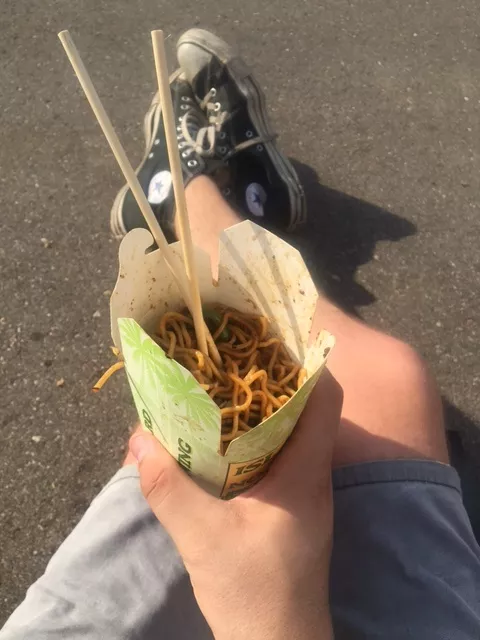 5. Shakey Graves

It was pretty overcast on Sunday afternoon, but by the time Shakey Graves hit the Fender Stage, the sun was out to play and it wasn't taking any prisoners. The band took the stage and it was the perfect music for the kind of heat that was hitting everyone: music that will make you tap your feet and sway, but not dance your ass off while you quickly die of dehydration. The lead singer of the band went on to tell the crowd that "life is too short to think that other people fucked you over." Truer words have never been spoken at Mo Pop.
6. All the craft beer.

So. Much. Beer. A lot of festivals only serve up Bud Light and maybe a few craft brews, but Mo Pop was dedicated to serving local beer. Granted, it was so hot that a lot of people weren't going to crazy on the alcoholic beverages, but the options were nice and plentiful.
7. That water situation, though...

Speaking of plentiful, the one substance that keeps us humans alive on miserably hot days wasn't in abundance at Mo Pop this year, and that was water. The group that I was with was a fairly seasoned festival attending bunch of people, and none of us had been to a festival that didn't have a water refill station. Yes, Mo Pop can't predict the weather, but there was a legit heat advisory out and the only options were water bottles being handed out at the Arcade tent and then for purchase at the bars? It just felt a little irresponsible from not only the group I was with, but other festival goers had the same complaint. Hopefully those kinks are worked out for next summer.
8. Mo Tech

Mo Pop really specialized in bringing specific, Detroit-centric attractions to the festival, and the coolest one was surely the Mo Tech village. Drones, virtual reality, and everything in between. It looked like a lot of the people weren't aware of the technology boom happening in Detroit, so it was awesome to see some light being shed on such a cool thing for the city.
9. M83

The little bit of electronic music highlighted at Mo Pop was M83, and they were the perfect band to do so. The festival seems that it's not interested in being techno/EDM heavy (We already have Movement, thanks anyway) but M83 is the perfect band that straddles electronic and live music. After a long day of folk bands and mellow vibes, the one-two punch of Matt and Kim and then M83 following on the same stage was great. The song "Midnight City" was a crowd favorite.
10. The Head and The Heart

What a perfect way to relax, enjoy the breeze from the river, and sip on a cold one: This folk/country/pop band played an hour long set that had feet tapping and people singing out to their catchy songs. As the sun was going down and the air finally starting to cool, it was clear that Detroit loves Mo Pop.