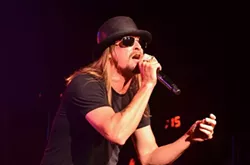 Kid Rock,
noted political pundit and Trump supporter
, performed during one of the after-parties during the final night of the Republican National Convention in Cleveland. And my, it looks like it was quite the show.
The Mitt Romney-loving Romeo native didn't send any of us at
MT
an invite to the show, but that's ok because that's what Twitter is for.
Fans of Bob Ritchie and other brave, curious media types showed up for the show at the Jacobs Pavilion in Cleveland shortly after Donald Trump finished his official acceptance speech for the Republican nomination. That is a thing that actually happened.
About to go watch Kid Rock with a bunch of RNC delegates. If I die, shoot my ashes out of a catapult into Lake Minnetonka.

— Otto Von Biz Markie (@Passionweiss) July 22, 2016
The scariest thing for me about this Trump speech is that I'm now going to see Kid Rock's RNC concert with the people who cheered him on

— Alex Suskind (@AlexJSuskind) July 22, 2016
But it sounds like everybody had to wait.
Makes me wonder if kid rock will ever start or if he is really a diva? #rnc #RNCinCLE

— David Garrett (@BuckeyefromMich) July 22, 2016
Eventually, the man famous for such lines as "I ain't straight outta Compton, I'm straight out the trailer" and "I can smell a pig from a mile away" emerged as a shadowy hat-donning figure with a very long index finger.
Kid Rock is rocking Cleveland at the RNC after party! @KidRock #RNCinCLE pic.twitter.com/skhmW3Mflf

— Cathy Lyttle (@cmlyttle) July 22, 2016
Much like the entire Trump campaign, Rock's performance contained moments that left some wondering 'what in the actual fuck?'
#Cleveland #KilroyRising Rock'n with Kid Rock celebrating #TrumpPence16 pic.twitter.com/UkwSgEtQ9I

— Kilroy Rising (@KilroyRising) July 22, 2016
Worried about God striking us dead here. Real thing I just saw at RNC Kid Rock concert. pic.twitter.com/1iy9KeqOmd

— Mollie (@MZHemingway) July 22, 2016
But alas, the key in both these instances is actually that there are no fucks. 00 to be exact.
At RNC Kid Rock concert, where he told anyone who has a prob w/ F word to leave. This fan agrees. pic.twitter.com/DePq4XUVrd

— Mollie (@MZHemingway) July 22, 2016
Many a delegate and high-ranking political leaders were in attendance, as evidenced by the sea of white button-downs. Tim Jones, Speaker of the Missouri House of Representatives (who counts Lil B as one of his Twitter followers lolz), seemed especially pumped.
Yeah baby! It's Kid Rock in Cleveland! Hell ya! #RNCinCLE @jallman971 @971FMTalk pic.twitter.com/SYNlFpbAkO

— Tim W. Jones (@SpeakerTimJones) July 22, 2016
All in all, it looks like America was at its greatest last night.
And that folks, was a wrap from the RNC.
And the last sound they heard in Cleveland was a belch from Kid Rock as he left the stage

— Gideon Resnick (@GideonResnick) July 22, 2016