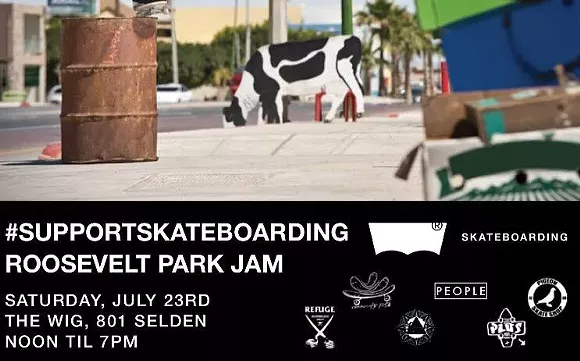 Little known fact: everyone's favorite jeans company has a skateboarding team, and they're lending a hand to DIY organization
Community Push
to help design and plan for a new
skatepark in Detroit.
Community Push and tons of volunteers have been heavily involved in creating and refining the Wig skatepark in Midtown and other local DIY spots for the past six years. Within the past two years, the Wig has evolved into a positive space where different members of the community can shoot hoops, skate, volunteer, hang out, and help build the once abandoned and blighted space into a creative and thriving park. They're actively involved with promoting skateboarding as a means for bettering the city of Detroit, specifically as a positive alternative activity for youth.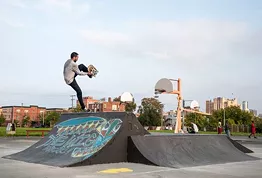 Unfortunately, the Wig is not permanent. That's where Levi's Skateboarding comes in. The two organizations are teaming up to host an event to hear community input on where and how to build a new park in the city.
The professional skateboarding team, along with local sponsors, will be hanging out at the Wig on Saturday, July 23 from noon to 7 p.m. to engage with the community and promote skateboarding as a positive alternative sport for youth in Detroit.
"This is a big opportunity for us. We started the Wig as a temporary spot, and now it's looking like we can finally achieve our goal of building something at Roosevelt Park. All the city departments we're working with are really supportive of what we're doing," says Community Push founder Derrick Dykas.
"The goal for Saturday is to have everyone share their ideas with us, tell us what they want to skate."
There will be a design competition for the new skatepark, a donation drive of new or used skateboarding goods, tacos, and music. And also professional skateboarders tearing shit up.
Dykas encourages everyone to "come out, voice your opinion, and have some fun."
Noon-7 p.m. Saturday, July 23 at 901 Selden St.
in
Detroit. More details available on Facebook or the Community Push website.