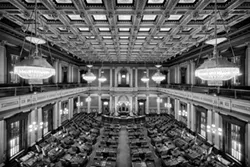 In hot legislative news, we've just learned via
MLive
that the Michigan House of Representatives has stopped posting the positions and salaries of their legislative staffers online — something they've done monthly since 2011.
This juicy tidbit is interesting considering the House has made a habit of posting said information — which, yes, is totally public — online (
MLive
goes into the nuances of how this came to be
here
), and didn't really make any announcements as to why they suddenly decided to stop.
As
MLive
puts it, the House "quietly scuttled" the issue by just ceasing to publish the list last month (we should point out the Senate
never
released this information — so hey!).
Anyway, the site reached out to Gideon D'Assandro, a spokesperson for House Speaker Kevin Cotter, R-Mt. Pleasant, to find out what was up.
"The short answer is that posting people's private financial information on the web caused problems for our staff," D'Assandro told
MLive,
going on to explain that the listings caused problems for House employees whose prospective employers would see their salaries and end up "lowballing" them.
"It ended up hurting a lot of staffers trying to get their careers started and also created a sometimes difficult professional environment for people who worked here," D'Assandro said.
Anyway, if you're an employer looking to hire some House staffers, and want to get them for a nice, cheap price fear not! D'Assandro says you can still get this information on request.
"Yes, just like always. And that's a key point — it is all still completely available to the public at any time. Nothing has been made inaccessible. People just need to ask for it now; that's the only difference," D'Assandro said.
According to
MLive
the House Business Office and the Senate Business Office release financial information under House and Senate rules. That said, there appears to be some gray-area around what you can access and who will give it you, as the two offices don't consider themselves subject to the Freedom of Information Act.
As
MLive
points out at the end of their piece, last year the Center for Public Integrity put out a list on state transparency and determined that Michigan ranked last. A big reason why? Our legislators are not subject to FOIA law.