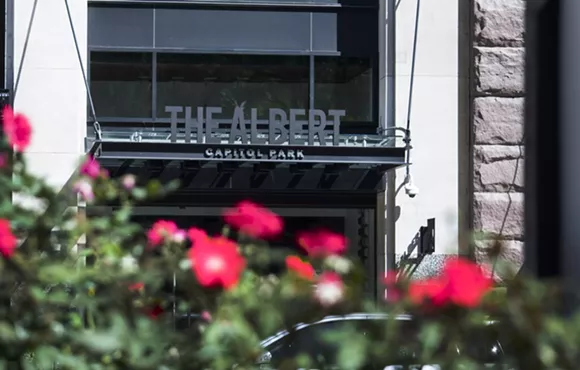 The DaEdoardo name is already a familiar one in metro Detroit. The DaEdoardo group of restaurants has eateries all over the area, but before that namesake stuck, there was La Lanterna in Capitol Park.
Later this year, La Lanterna will make a comeback, this time in the so-called Albert mixed-use building at 1214 Griswold, according to an announcement Thursday. Originally established in 1956 by Edoardo Barbieri in what is now the Malcomson building, the forthcoming restaurant will be led by the current generation in the family: grandson Edward Barbieri III, his wife Suzie Barbieri and two sisters Ann Kolinski and Alicia Topolinski.
In keeping with the other locations, La Lanterna will focus on a menu from the north of Italy, with an emphasis on pizza, pasta, sandwiches and other classic entrees. The 2,000-square-foot space will cater to the pre-game and business crowd, and will seat 60-70, feature a full bar, and will offer delivery in the downtown and Midtown areas.
Says Richard Broder, CEO of Broder & Sachse Real Estate Services, the Birmingham-based property management and development firm that manages The Albert: "We love the Barbieri family story and its representation of the reinvestment in Detroit."
"The DaEdoardo Restaurants have an outstanding reputation for crafting delicious Italian food, and we know that La Lanterna will be a great addition to The Albert and the Capitol Park neighborhood," Broder says.
Adds Barbieri: "It is gratifying to return to the Capitol Park area where our family's first restaurant was established."
The revived Italian eatery could help to breathe new life into the DaEdoardo family of restaurants. Construction of the M-1 rail line on Woodward had chipped away at business at the Foxtown Grille location, resulting in skeleton crews and shortened business hours.
This latest announcement also adds to a growing list of other food and drink developments in the micro neighborhood.
Go! Sy Thai
is supposed to open this fall and Marc Djozlija from Detroit Optimist Society (Wright & Company, The Peterboro) recently told us that plans are in the works for a rum bar in the same building. Across the street, the Freep
reports
, restaurateur Jeremy Sasson (Townhouse) is planning a modern steakhouse, to open in November.