"Remember, kid. Heroes get remembered. But legends never die."

So says an imaginary Babe Ruth to Benny "The Jet" Rodriguez in 1993's The Sandlot. Ruth is encouraging Benny to seize his chance at greatness and make a difference, in this case, by retrieving a lost Ruth-signed baseball from a neighbor's yard. The rest is history.
Heroes will always be remembered for the wins, the stats, the rings. But legends live on forever in the hearts of fans for what they represented- the pinnacle of greatness, the height of achievement. Legends are the personification of a team, a fanbase, a city.
In Detroit, we've had the fortune of seeing several prolific athletes over the years. Players like Isiah Thompson, Ty Cobb, Barry Sanders, and more recently, Calvin Johnson and Miguel Cabrera. But perhaps no team can claim such storied alumni as the Red Wings. Just take a look up at the rafters in the Joe. Names like Yzerman, Lidstrom, Howe. Legends, indeed.
Does Pavel Datsyuk deserve a place among them?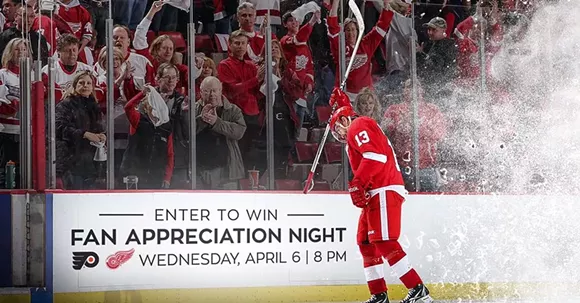 In mid-June, after months of speculation, it became official that Datsyuk was retiring from the Red Wings after 14 seasons. It had been rumored for awhile that Datsyuk was seeking to finally return to Russia to spend time with his family and play one last season or two back home with his countrymen. The news was particularly devastating to Red Wings fans, not just because the team was losing one of the most creative offensive players of all time, but because Datsyuk's contract still had a year remaining, crippling the Wing's checkbook.




Although the Wings were able to get out of that financial mess via trade, it soured several fans on Datsyuk. But in this city, forever and always, Datsyuk is a legend. And while it will be awhile before the dust settles on his retirement and his NHL career, his accolades speak for themselves.




314 goals. 604 assists. 918 points.




Assistant captain for the Red Wings, captain for the 2014 Russian Olympic Team.




Three time NHL All-Star, three time Selke Trophy winner for best defensive forward, four time Lady Byng Trophy winner for most sportsmanlike and gentlemanly player.




Two time Stanley Cup Champion.


It's an impressive list of achievements. But even the stats don't do his legacy justice. Christened "The Magic Man" by hockey fans, Pavel's incredible offensive wizardry can only be described as, well, magic. Every time he touched the puck, Wings fans young and old held their breath. You just never knew what was about to happen.
Take a look for yourself.
Picking a favorite Datsyuk highlight is like picking a favorite kid

Of course you've got one, but it's unfair to the rest to say which one

— Winging It In Motown (@wingingitmotown) June 18, 2016
Psst: this one is my favorite.
Datsyuk was symbolic of the dominant Red Wings of the mid 2000s. He galvanized fans with his prolific scoring, and continued to win them over with his incredible defensive skills and quiet yet funny demeanor. His skills and work ethic inspired legions of young hockey players in Detroit, the US, and his home country. He represented everything the Red Wings organization stood for- skill, poise, perseverance, and winning.
Just take a look at what current and former NHL greats
have to say about him
.
He will be greatly missed in this city.
It will be a few years before Red Wings brass and fans seriously come around to consider retiring #13. Fans must digest his unorthodox departure, and his legacy in this city must mature. It won't be easy, even for a player with Pavel's resumé. Steve Yzerman's #19 made it, with his 9 All-Star selections and 3 Stanley Cups. Nick Lidstrom's #5 made it, with his 12 All-Star selections and 4 Stanley Cups. And of course, the late Gordie Howe's #9, who many consider to be the greatest to ever play the game, hangs in the rafters at Joe Louis Arena.
That's fabled company, to be sure.
But what Datsyuk did for the city and the team during his tenure was something incredible, the sort of performance you only get from a once-in-a-generation type player. His impact on the team's success can't be understated, but neither can his impact on the minds of fans, for whom he came to represent the Winged Wheel and everything about the game. Even for a franchise as grand as the Red Wings, his contributions can only be described as legendary.
And like they say, legends never die.