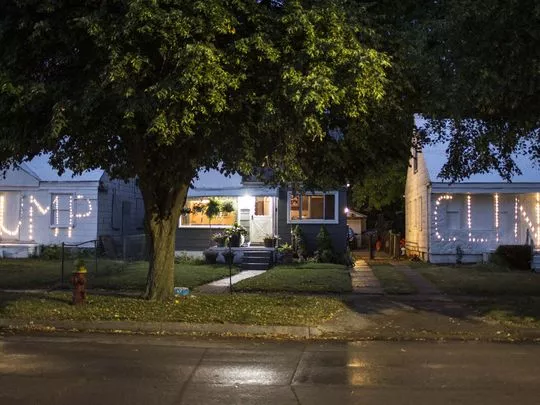 In the Brightmoor neighborhood of Detroit, near the corner of Lamphere and North Kane, artist Ryan Mendoza has converted two abandoned homes into a political statement.
After painting each house white, Mendoza drilled bullet-sized holes to spell out "Trump" and "Clinton" on the front. The names of the presidential candidates are backlit by a series of LED lights inside the homes.
The project, entitled "The Invitation," began when Mendoza met Brightmoor resident John O'Malley, who lives between the "Trump" and "Clinton" houses. Mendoza believed the location of O'Malley's house represented an unfortunate reality: regardless of who wins the presidency, O'Malley and other residents like him are stuck between inadequate options.
According to the Detroit Free Press
, Mendoza wants the project to draw attention to Brightmoor and the issue of abandoned properties. The project invites the presidential candidates to spend a night in Detroit to experience what middle America is like. It is also a provocative invitation to city officials to demolish these properties, which have been believed to contribute to the neighborhood's blight problems.