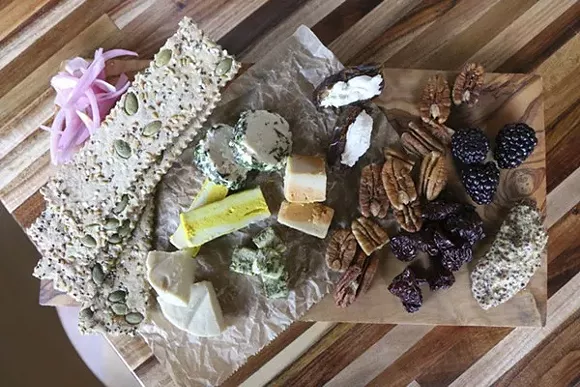 Health-conscious foodies who crave a little something more refreshing than typical greasy spoon fare will appreciate this. Ferndale's GreenSpace Cafe will begin serving lunch July 19. The new offerings will be available 11 a.m.-2 p.m. Tuesday-Saturday.
Says owner and plant-based cardiologist Dr. Joel Kahn: "The menu will offer the vibrant vegan fare our customers love, including new items along with some of our greatest hits, but more casual, and in lunch-sized portions."
Among the fare is a tomatillo gazpacho and masoor dahl, the cafe's superfood salad, nut cheese board, farro lentil burger, and other small-plate options. For more of an on-the-go lunch, the eatery is also launching a new line of raw juices, made in-house.
Dinner hours are 5 p.m.-9:30 p.m. Tuesday-Thursday, 5 p.m.-10:30 p.m. Friday-Saturday. Happy hour food and drink specials are available at the bar from 5 p.m.-7 p.m. Tuesday-Friday. GreenSpace Café is at 215 W. Nine Mile Road in Ferndale.
For more on our impression of GreenSpace,
click here.