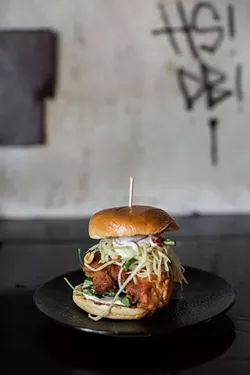 For when you've got those after-hours munchies, Katoi has added a new late-night/bar menu to the mix.
In keeping with its northern-Thai influenced cooking techniques, expect to find food that draw from the southeast Asian region's traditions, but that have a Midwest sensibility.
Think a Thai fried chicken sandwich with papaya salad, pickled jalapenos, coconut rank, and cilantro on a brioche bun. There's also the Tho'oney, described as a Thai-style Coney, made with chiang mai sausage, nam phrik ong, mustard aioli, shallots, pickled mustard greens, and cilantro. Prices range from
The late-night menu runs 11 p.m.-1 a.m. Thursday-Saturday. In the meantime, drool over the other offerings below.