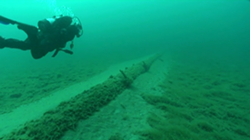 Two contractors have been hired by the state to assess the spill risk of Enbridge Line 5, an aging oil pipeline that runs under the Great Lakes, officials announced Tuesday.
Enbridge agreed to pay $3.58 million to fund an independent risk analysis and alternative analysis for the Line 5 pipelines under the Mackinac Straits, and the company offered "no opinion" on the contractors hired by the state, according to a statement from Michigan Attorney General Bill Schuette's office.
"Our Great Lakes are the crown jewels of Michigan and we have a duty to preserve them for generations to come," Schuette said in a statement issued Tuesday. "We are now taking the next step forward to formally define the environmental and financial risks we face."
The announcements follows a protest outside Schuette's home last week, where roughly four dozen demonstrators — the attorney general called them "thugs" — convened. No arrests were made.
As Metro Times reported last week, environmentalists protesting the 63-year-old pipeline began walking the length of Line 5 in June. Their focus is the pipeline's worst-case scenario spill, concerns compounded by the fact that engineers believed the pipeline would maintain for 50 years.
Seven proposals were submitted for the independent risk analysis and alternative analysis, officials said. In the end, a pipeline safety advisory board comprised of state department heads selected Det Norkse Veritas (USA) to conduct the independent risk analysis to identify current risks of the pipeline, and Dynamic Risk Assessment Solutions will study and evaluate alternatives to the pipelines.
Enbridge has repeatedly maintained the pipeline is safe. But with the aging pipeline, and its proximity to the Great Lakes, activists point to previous high-profile incidents of Enbridge in Michigan — particularly, a 2010 spill near the Kalamazoo River in the city of Marshall, when 1 million gallons of heavy tar sands oil leaked. It was the largest inland oil spill in U.S. history.
The studies are expected to be completed next year, the Freep reports.