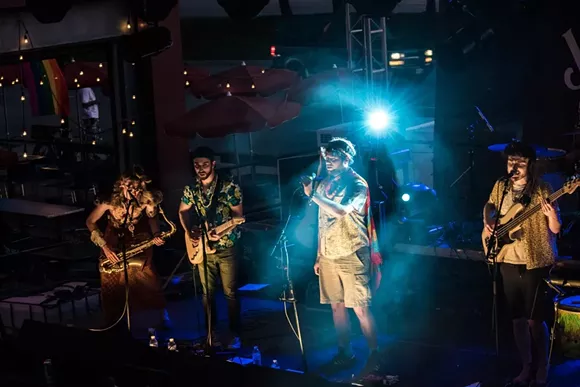 You could say this band is working for the weekend, and that might be cheesy and ridiculous, but it's true: "We're working all week and traveling every weekend," says guitarist Ryan Hoger. The funky-folk group Joe Hertler and the Rainbow Seekers have already had an impressive summer of shows and are preparing for
Metro Times'
own
upcoming Pig and Whiskey festivities
, where they will return for the second year in a row.
"We're super excited
about Pig and Whiskey. We have a lot of friends in Ferndale, so it's great being
able to see everyone.
Last year was so much fun, so we're excited," says Hoger.
Joe Hertler and the Rainbow Seekers have performed at Bonnaroo, Summer Camp Music Festival, and Michigan's own Keloorah fest this summer. After working their normal day jobs, the band travels relentlessly on weekends to play. After Keloorah, the band drove straight through the night to make it to Bonnaroo in time for their early set. "
Whenever we have an adverse
situation,
we somehow manage to pull it off. For the first show of the day, we had a good crowd. It went really well. hopefully we get asked back
again," Hoger says.

All of the band members are spread out across the state, from Kalamazoo, Lansing, to metro Detroit, so they're used to having to travel, even if it's just to practice. "
We're about to drive to Colorado and Oklahoma for a weekend. People in my office look at me like I'm insane for not sleeping in three days."
Bandleader Joe Hertler expressed gratitude for being able to cram band time in whenever possible, no matter how much work it is. "
We all have
full-time jobs, and we're very lucky to have employers who let us do our thing. They're really supportive, and w
e're really
thankful. It's stressful, very nonstop at times.
Nonetheless, we all enjoy it."


Hertler also feels some type of way about that popular phrase, 'If you do what you love, you'll never work a day in your life.' "It's bullshit," Hertler says. "We work our asses off, and it's hard work, but we think it's worth it."
The group has also been performing some new songs this summer, even though they put out an album,
Terra Incognita,
just last year. "
We believe that if
you go to a show, it should be an experience. If we just played the album, what's
the point in going out? We try and change things up as much as we can," Hoger says.
"Having a good time is contagious, and we try to spread that." The band is known for their theatrical live shows, including an inflatable rainbow, and crazy stage props with lots of flowers and bouquets.
According to Hertler, this next album should be their best yet: "
All the songs are
there for a new record, we're just combing through it,
putting everything under a microscope, and demoing them live. We've never
been this meticulous with a record, but it's a nice challenge."
Their new material will be released on an unnamed, upcoming album, which is about 80 percent complete, early next year.
Pig and Whiskey isn't your only chance to see Joe Hertler and the Rainbow Seekers this summer. Their upcoming gigs include Bliss Fest, Cow Pie Music Fest, and they'll be back in metro Detroit at the
Royal Oak Music Theater on August 13
.