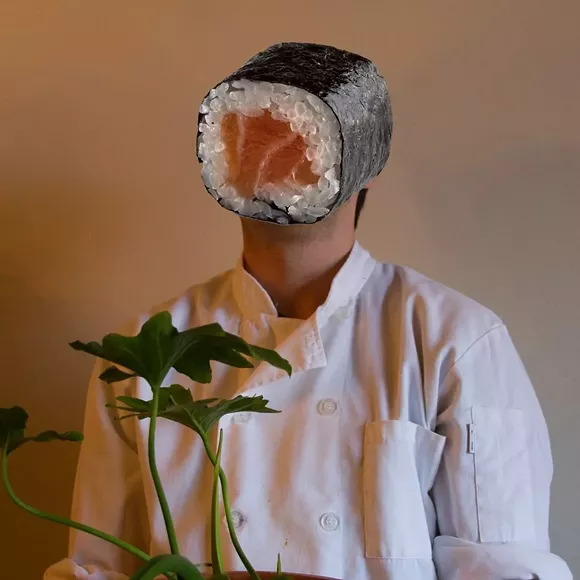 The Midwest, Detroit in particular, is not especially known for its sushi. We're thousands of miles away from an ocean, after all, and our Asian cuisine trends toward Vietnamese, Indian, and Chinese – not necessarily Japanese.
That a former Wayne State University student who grew up in landlocked Royal Oak would be given the title of Dr. Sushi, of all things, at first seems far-fetched. The moniker has somehow stuck for one Nick George, however, and he's become a bit of a fixture in the local sushi arena.
George became fascinated by sushi when he was just a kid, having prepped food as a teen at the venerable sushi shop Noble Fish in Clawson, and while in school, he held private dinner parties for friends. After placing an ad for a private sushi chef for hire on Craigslist and landing his first catering gig, George knew he was onto something.
He's since hired a regular staff and has become known around town for not only regular catering gigs, but also sushi rolling classes, monthly pop-ups at St. Cece's, and brunch at El Club.
On a recent Tuesday night at the Corktown pub, the place was packed with Dr. Sushi enthusiasts, all eager to dig into the delectable rolls.
See photos of Dr. Sushi's stunning creations
The key to his success might have something to do with his approach to sourcing his ingredients. The sustainable sushi movement, which he strives to follow, dictates that the fish should come from sources that can be maintained without jeopardizing the environment. In George's case, it means seeking out suppliers in Michigan and elsewhere that sell fish that's already in abundance. He routinely shops at six to seven different markets, scouring the aisles for ingredients. Eschewing some of the traditional sushi-making methods, he also turns to as much locally-grown produce as possible to fill the void, creating cuisine truly unique to southeast Michigan.
Take a look at George's menu and his method is apparent. During our visit, we chose from three different ticket-like, color-coded pages in which customers check off what they want and hand them to one of George's wait staff – one for sushi, one for entrees, and another for okonomiyaki (a Japanese savory pancake). We first went for a big salad, loaded with komatsuna (Japanese mustard spinach), pickled asparagus, carrots, spicy tofu, pickled shiitake mushrooms, cucumber, miso-ginger vin, and wasabi oil. Each ingredient complemented one another, offering a tasty spin on what can otherwise be a boring starter.
We then tried one of his regularly featured veggie futomaki. It's fish-free, with George instead using vegetables that work well together for a flavorful and complex taste. Such is the case with a recent creation that incorporated komatsuna (Japanese mustard spinach), ginger carrots, pickled radish, cucumber, and tofu. His Sister Ray roll gives of a slightly firey and citrusy kick with use of jalapeno, lime, and kewpie mayo to complement the fried swai fish. The negi shiro maguro (white tuna and green onion) is simple and pleasantly fresh.
Our favorite dish was the ikuradon. Served in a large bowl, a bed of white rice is topped with a bountiful layer of chinook salmon roe from Lake Huron, raw quail egg, a peppery shiso herb, thinly shredded nori (seaweed), sea urchin, and an edible flower garnishment. It comes out vibrantly plated, and the bold flavor profile of the caviar blends superbly with the rice and other ingredients.
We were tempted to sample the okonomiyaki, a pancake made of mountain yam, flour, egg, and katsuo dashi and then topped with dewpie mayo, okonomi sauce, and bonito and aonori flakes. We were happily full and will have to wait another month to give it a go.
Impressive as his sushi is, George tells us he wants to be more than a practitioner of Japanese cuisine. He's been experimenting with Chinese food recipes as of late, adding fusion plates like Szechuan lamb tacos on his menu. He also made a recent appearance at Marble Bar to grill umami burgers, and for his El Club brunches, he's using his Eastern cooking techniques on Western breakfast fare.
As for opening a brick-and-mortar, George says he likes things the way they are. When he's not rolling sushi, he's performing in bands, or playing soccer or tennis. He likes the thought of coming up with ever-evolving concepts, without the monotony of running a full-scale restaurant. We like it, too: George is Detroit's on-call doctor who will pop up with a sushi prescription refill wherever you need it.
Dr. Sushi will be at El Club for brunch, 11 a.m.-3 p.m. July 18; at St. Cece's for dinner the last Tuesday of each month; and his next sushi rolling class will be held Sept. 15 at Great Lakes Culinary Center in Southfield. Tickets for the class are available at eventbrite.com/e/dr-sushis-diy-rolling-workshop-tickets-26357769799