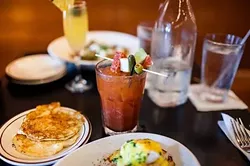 Gastropub Bobcat Bonnie's in Corktown continues to expand its offerings, now with daily breakfast service. Also, just in time for summer, an outdoor patio is in the works.
Managing partner Matthew Buskard tells us breakfast rolled out softly on Wednesday (June 22). Expect to find entrees that make several references to '80 and '90s pop culture, like the Uncle Jesse (house potatoes, onions, ham, bacon, sausage, cheddar cheese, and two fried eggs), the Beet It Eggs Remix (pickled beets, deviled egg mix, tarragon, dill, and paprika), and the Mr. Big's Breakfast (two pancakes, bacon or sausage, scrambled eggs, and choice of toast). The new offerings are in addition to the spot's existing weekend brunch. Breakfast hours are 8:30 a.m.-11 a.m.
As for the patio, Buskard says it's near completion.
Approaching the one-year anniversary, Bobcat Bonnie's has been playing with different ways to bring in a mix of customers — from offering vegetarian friendly small plates and entrees, to Monday $12 burger-and-draft specials. To accommodate for the expanded service, the restaurant is also looking for a few good line cooks. A recent Facebook post has a few more details about the
job opportunities
.
Bobcat Bonnie's is at 1800 Michigan Ave.