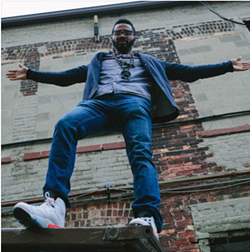 Over the last few years, Detroit's
Jahshua Smith
has built his reputation as something of a rapper's rapper. He's a socially conscious emcee with a heavy arsenal of rhymes, wit, and swagger. "Zero Gravity" is the first single off his forthcoming sophomore LP,
The Fourth Wall
.
"We all descendants of kings and princes, in textbooks they never tell you that/But you can roll around where the poverty is found and find a dealer who will sell you crack," he raps.
Throughout the cut, Smith continues to rap about the powers of dreams. The melodic track is produced by Springfield, Ohio native StewRat, while the soulful R&B vocals by PhourTheLove give the cut that necessary Wiz/Sam vibe. Overall, "Zero Gravity" is a pretty sweet cut from a highly-anticipated album.