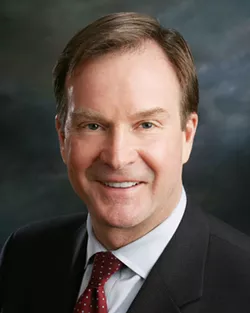 Michigan Attorney General Bill Schuette has filed a civil lawsuit against water engineers Veolia and Lockwood, Andrews & Newman, alleging the companies were negligent and contributed to the poisoning of Flint's drinking water with lead.
Veolia and LAN should have known high chloride levels in the Flint River would corrode lead pipes if left untreated, according to the attorney general's office. The suit, filed in Genesee County Circuit Court, seeks hundreds of millions of dollars in damages.
The monetary damages the state seeks are intended to pay for health care, special education needs, and social services for lead-poisoned residents, as well as replacement of water infrastructure, the attorney general's office said.
"Many things went tragically wrong in Flint, and both criminal conduct and civil conduct caused harm to the families of Flint and to the taxpayers of Michigan," Schuette said in a statement. "In Flint, Veolia and LAN were hired to do a job and failed miserably. Their fraudulent and dangerous recommendations made a bad situation worse."
Veolia contracted with the City of Flint in February 2015 to address its drinking water quality, according to Schuette's office, and "produced at least one report and one public presentation stating that Flint's drinking water was 'in compliance with state and federal regulations, and based on those standards, the water is considered to meet drinking water requirements.'"
The company failed to recognize the corrosion occurring in the city's lead pipes and resulting poisoning of the water, according to the lawsuit.
Contractor LAN began working with the city in 2013, and a report the company issued in 2014 "took no action to implement corrosion control," according to the attorney general's office. A second report in August 2015 "again failed to address the hazards of lead in Flint's water," according to Schuette's office.
The attorney general's office filed criminal charges in April against two state workers and one city employee after opening an investigation into the Flint water crisis earlier this year.
"These civil charges today, the previous criminal charges and the additional charges to come, are an effort, a pathway to rebuild and restore trust and confidence in government to families of Flint, and indeed to the families and taxpayers across Michigan," Schuette said in a statement.