Ten years ago this week, Dabrye's
Two/Three
album was released by Ann Arbor-based label Ghostly International. It's the follow-up release to the all-instrumental
One/Three
from five years earlier, and 8 of the 14 tracks feature guest MCs, including underground luminaries from near and far such as MF Doom, Beans, Phat Kat, Jay Dee, Invincible, Kadence, and others. It is now considered a modern classic of electronic hip-hop. It felt like a breath of fresh air upon its release, and remains as crucial a decade later.
Do yourself a favor and listen to the entire album below! Then scroll down for our exclusive interview with with Ann Arbor based Tadd Mullinix aka Dabrye.
Dabrye is one of several aliases used by Mullinix, who also releases music under the names James T. Cotton, Charles Manier, 2AM/FM, and SK-1. He rarely gives interviews, but we were able to catch up with him this week via email to reflect on
Two/Three
and look ahead to
Three/Three
, which he tells us is on its way.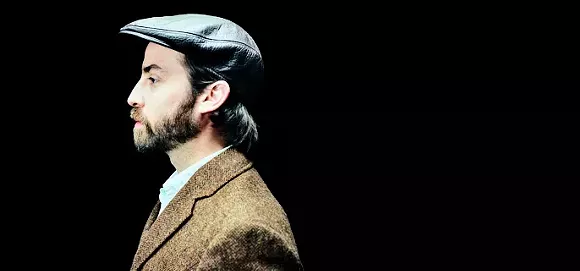 Metro Times
: What was the original concept for the One/Three, Two/Three, Three/Three trilogy?
Tadd Mullinix
: It's kind of simple. I set out to make hip-hop music and thought that three albums would be a decent span to focus on. It's a sort of anti-concept because I avoid setting too many rules. The more I realize that there might be some expectations about the formula, my natural inclination is to change it, especially when a prominent feature starts to feel like a gimmick.
MT
: What was the process for making
Two/Three
like?
Mullinix
: Two/Three was mainly produced using a tracker program called All Sound Tracker. It's a somewhat sophisticated sound-file and MIDI sequencer. At that time, most hip-hop producers used hardware samplers, but I was comfortable with AST and made all types of electronic music with it. I sampled records, designed sounds, built archives, made arrangements in my bedroom studio, and sent them to Ghostly label boss Sam Valenti. I provided an MC wishlist, and Sam and his team made the connections happen. I don't remember hitting any real turbulence in the process of curating the vocalists. Everything was really natural and cooperative.
MT
: Will there ever be a
Three/Three
? Why has it been ten years since the last album?
Mullinix
: I've just finished making the beat-tape for
Three/Three,
which is basically a volume of short instrumentals we distribute to MCs. People rarely use cassettes for this purpose anymore, but we still call them "tapes." The ball is definitely rolling, finally.
People are talking about it a little bit because it's been so long since
Two/Three
. Remix jobs and a few individual productions came my way in the meantime, but I haven't had the inspiration to make another album until recently. It's difficult to pin down why. A bunch of things happened. James Yancey's death was a factor. He was a huge inspiration, and it knocked the wind out of a lot of people in different ways. There'd also been a huge surge in instrumental-electronic-crossover hip hop, to which Dabrye had become attributed to. The wave manifested under different names: "wonky," "beat scene," "skweee," "glitch hop," all from which I felt a bit of distance in general. That's not to mitigate the love and appreciation I received from respective insiders. Also, later, there were some very personal struggles and lackluster touring experiences that left me disenchanted and cynical about Dabrye's future.
MT
: You started your own label Bopside and have been releasing various projects on it. How's that going? Will all of your future releases be on Bopside? What else are you working on? Seems like you always have a lot of projects going.
Mullinix
: Dabrye will be released on Ghostly International for the foreseeable future. The whole team there is awesome. The rest of my work I decided to self-release on Bopside, as I always wanted to experience the entire record making process; I can integrate my visual art, which works well with these more fringe music styles; and I needed to change my overall career strategy. I was releasing music as JTC, Charles Manier, and 2AMFM (with D'Marc Cantu) on various labels, but not really getting the type of visibility that I needed to make it sustainable. I really jive with Traxx's Nation label and Ghostly International. I can't imagine a better experience with a label, but I still had to collaborate elsewhere so the work was being fragmented and re-curated. Various cliques and audiences weren't getting the bigger ideas behind the aliases. Having Bopside makes the narrative of all of my work more visible, and I can indulge in maximum creative freedom.
MT
: What is currently inspiring to you?
Mullinix
: I recently taught a hip-hop production workshop at TUMO Center For Creative Technologies in Yerevan, Armenia. The kids there were so genuinely excited and grateful to have that opportunity. They're incredibly, authentically respectful, receptive, focused, and eager to learn. That was very inspiring.