Legendary bassist, composer, and educator Ron Carter is this year's Detroit Jazz Festival Artist-in-Residence, and you can catch a rare intimate performance by him tonight at Grosse Pointe's Dirty Dog Jazz Cafe.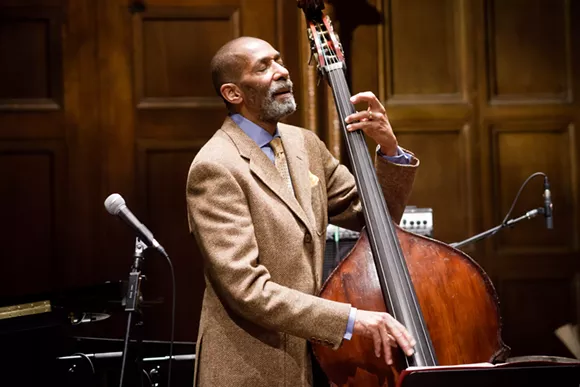 Detroit native Carter is known for his work with Miles Davis, McCoy Tyner, Herbie Hancock, Chick Corea and Wayne Shorter. Having played on more than 2,000 albums, he was recently named the most recorded bassist of all time by the Guinness Book of World Records.
"I have been to many wonderful places in my life, but no matter where I go, Detroit will always be home. It has shaped who I am and has had a tremendous impact on my life and music," said Carter. "It is an incredible honor to be an Artist-in-Residence from Detroit at one of the world's greatest festivals held in the heart of my hometown. I am thrilled to get the opportunity to become more involved with this world-class event and work with talented jazz students in a place that's so special to me."
In addition to his four performances at the 37th annual festival, Carter will be performing two sets at the Dirty Dog tonight with guitarist Russell Malone. It's a unique opportunity to catch such a heavyweight performer in an intimate setting — something you'd usually have to go to New York to see.
Ron Carter performs Tuesday, June 14, at the Dirty Dog Jazz Cafe, 97 Kercheval Avenue, Grosse Pointe. Tickets are $175 and include dinner, dessert, coffee or tea and tax and gratuity. Choose from two shows, 6 p.m. seating, 7 p.m. show; and 9 p.m. seating with 10 p.m. show. Call 313-640-8414 or email [email protected] today to purchase your seat(s).