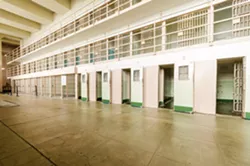 The Michigan Senate
passed legislation
Thursday that would require the state to pay exonerated prisoners for their time behind bars.
Under
the bill
, which now heads to the House for a vote, exonerees would be paid $50,000 for each year they were wrongly incarcerated and then funds to cover any and all attorney fees incurred during the litigation process.
If passed, the legislation would allow Michigan to join the 30 other states that provide financial assistance to those who have been wrongly convicted.
According to the
Associated Press
, Michigan has released more wrongly incarcerated prisoners than all but four states. This week, the state made national news after it freed
Davontae Sanford
, a 23-year old Detroiter who spent eight years behind bars after being wrongly convicted of a quadruple homicide when he was 14 years old.
Michigan has long debated this kind of legislation, with a bill detailing compensation for innocent inmates first introduced in 2005. In June 2015, the topic was
reintroduced in Lansing
when a legislative committee approved a bill that would give exonerated prisoners $60,000 for each year they were behind bars, as well as lost wages, medical expenses and attorney fees. The legislation has been whittled down in the last year.
Those against such a bill point out the financial setback it would cause a fiscally wobbly state like Michigan, and the need to put its other residents first.
As the
Free Press
pointed out last year (when the legislation still promised $60,000): "Half of the 56 people who've been freed in Michigan since 1989 would qualify for between $30,000 and $2.1 million, nearly $592,000 on average, putting the state above the nationwide median payout of $240,000, or $24,000 for each year of time served, according to the Innocence Project."
One reason for the higher than average payout has to do with Michigan's more punitive than average penal system. In the past 50 years, the state's prison population has ballooned by 538 percent, from 7,834 in the 1970s to 42,940 in 2011. During that period, the state has adopted some of the stiffest, most draconian policies, such as its mandatory-minimum sentencing guidelines, which led to the state having the second-highest number of adults and children serving life without parole (LWOP) in 2011.
As University of Michigan historian Heather Ann Thompson explains in her article
Unmaking the Motor City in the Age of Mass Incarceration,
even those not serving LWOP have been subject to lengthier prisons stays because of a 1998 change in sentencing guidelines (the Truth-in-Sentencing guideline says prisoners must serve their minimum sentence without the possibility of parole) and the 1992 decision to make the parole board appointees, and therefore subject to political pressure.
"By 2009, Michigan prisoners were serving nearly 17 months more
than the national average," writes Thompson. "Between 1981 and 2005, the average length of time served increased by over fifty percent, and, by 2009, prisoners in Michigan were serving sentences seventy-nine percent longer than they were serving for the same crimes in 1990 — just shy of an additional two years."
These changes mean that more — potentially innocent — people are getting caught up in Michigan's criminal justice system. And more notably, they are also spending more time behind bars. Two facts that can only exacerbate the already problematic realities of imprisoning the innocent.
This is one reason why advocates for the exonoree-payment bill believe the state has a moral obligation to get the legislation signed.
"This is really just designed ... to recognize the fact that this person lost their freedom," Democratic Sen. Steve Bieda, a sponsor of the June 2015 bill told the
Free Press
. "We're trying to get them reintegrated into society and to put them at a level of comfort without necessarily being a billionaire walking out of the system."