Around this time last year
, Michiganders were given their first taste of the "glamping" lifestyle when Bella Solviva announced their plans to build a location near Traverse City.
But alas, excited potential glampers are going to have to keep waiting because Bella Solviva shows no signs of opening in time for the end of this year's summer season. Instead the grand opening is set to happen on a yet-unannounced date in spring 2017.
The brain-child of entrepreneurial power couple Brad and Sandy Carlson has promised to be Michigan's first premier glamping destination, though recent setbacks have caused the site's opening to be pushed back a full year later than what they had originally planned.
Metro Times
reached out to Bella Solviva for a further explanation of the delays — hey, we wanna glamp, okay? — and representatives refused to comment, directing us to a press release from June 14.
According to the release, delays were due to "ongoing site development negotiations."
Prior to this development, the latest news from the organization stated that they were entering an "Extreme Build" phase as of May 29. Taking inspiration from the TV show
Extreme Makeover
, the "Extreme Build" would see Bella Solviva and a small army of volunteers working extensively over a period of 4-to-5 weeks to get the camping site up and running.
In the
press release
from June 14, Bella Solviva chalked the delays up to "ongoing site development negotiations."
"As we look toward 2017, we will use this time wisely," the press release states.
"We're inviting more investors and looking for a visionary developer to partner with us. Bella Solviva is a prime opportunity – the numbers and media interest clearly show the need for an upscale camping resort!"
So what about the people who have put down money to glamp? Well, some of them are pretty miffed at the delay and lack of communication.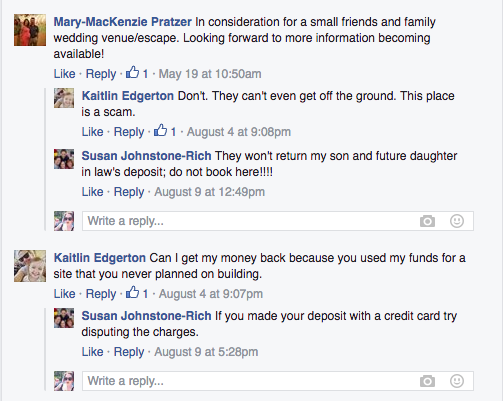 One of the owners
did
tell
CBS Detroit
(guess we weren't important enough) that online surveys gave them an idea of what types of accommodation people want and construction on the first tree house modules will begin shortly. "It's going to come together very quickly through the fall, winter and spring," Brad Carlson said.
Carlson cited money concerns, telling CBS, frankly, they could use more and are considering starting a crowd-funding campaign or perhaps bringing in an investor.