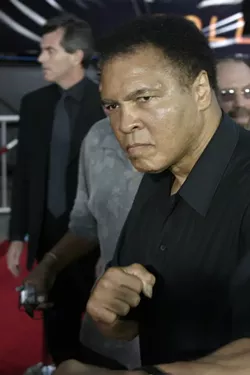 After a long battle with Parkinson's disease, boxing legend Muhammad Ali died Friday night, according to a statement from his family.
Reports of Ali's worsening condition began this week after he was hospitalized in Phoenix for respiratory issues.
The boxer had ties to Michigan, moving to Berrien Springs two years after being diagnosed with the disease in 1986 and being an
active member of the community
there until 2007.
Michigan's native son and boxing standout Floyd Mayweather told ESPN, "We lost a legend, a hero and a great man."
Many others took to Twitter to share their Detroit memories of 'The Greatest.'
He said he got it from when Muhammad Ali was at the Hotel St. Regis in Detroit in 1973.

— Evan (@EvanJ_B_) June 4, 2016
#RIPMuhammadAli - what can you say about a man like Ali? Trained at @KronkGym in Detroit, made MI his home, a legend in his own time.

— NGS Flint Outpost (@NGS_Flint) June 4, 2016
A few months back, fist bumping Muhammad Ali, on top of Detroit

Photo by Reinhardt Swart published in ZIPR magazine pic.twitter.com/amP5oow1sT

— Eric Millikin (@ericmillikin) June 4, 2016
I met Muhammad Ali once in Detroit. A chance meeting in a field behind a high school where he was making an appearance. Just Ali & me.

— garybaumgarten (@garybaumgarten) June 4, 2016
when you're from Detroit you grow up know who Joe Louis is, and if you know who Joe Louis is then you know who Muhammad Ali is

— Biz (@That_Biz) June 4, 2016
here you go, 1963 when Muhammad Ali (Clay) came to Detroit for the first time. pic.twitter.com/46893plyzD

— profloumoore (@loumoore12) June 3, 2016