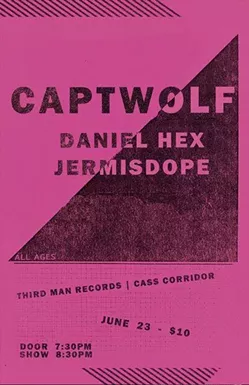 This is such great news:
Captwolf
is playing a
show at Third Man Cass Corridor on June 23
.
It's super rad to see that the
store/plant/venue
is embracing not only just the best local talent in its shows, but that it's not all garage-rock and related music.
Captwolf, who
we first wrote about less than a year ago,
will be joined by Daniel Hex and Jermisdope. The show is $10 at the door, or you can
get your ticket here
ahead of time.
We can't guarantee that all of these artists are going to blow up and be the next big thing out of Detroit, but damned if we don't find Captwolf's highly inventive and fun music a total blast. And yes, they absolutely should be celebrated, loved, and adored by millions in and outside of our fair mitten.