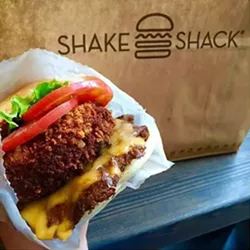 It's as if every New York transplant's dream has come true. Popular NYC-based Shake Shack is set to open its first Michigan location inside the First National Building (660 Woodward) downtown in 2017.
Known for its solid Angus burgers, thick handspun shakes, and flat top hot dogs, the chain has expanded to more than a dozen other states across the country, and other locations internationally since first opening in the early aughts as a kiosk in Madison Square Park in Manhattan.
An announcement issued Monday says the Detroit branch will include regional favorites like frozen custard concretes and local craft beer.
There's no word yet on how many will be employed or exactly when the location opens next year. The spot will occupy the former First National Grille, according to
The Detroit News
. The Bedrock Detroit-owned property is also occupied by Local Kitchen + Bar, which faces Cadillac Square.
The Shake Shake announcement is just the latest in the chain gang to plan Motor City debut. Others, like Massachusetts-based Wahlburgers and Brooklyn's Mexican eatery Calexico, have both announced forays into the city this summer.