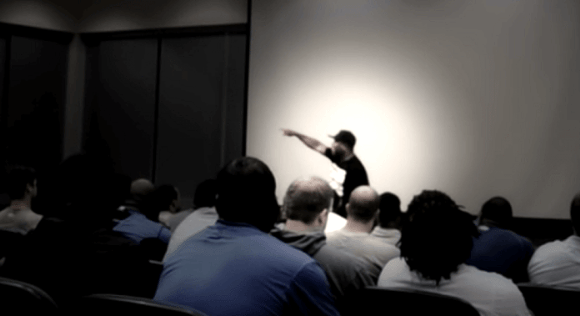 Positivity in the face of a negative narrative. Any lifelong Detroit Lions fan knows that's all you can drown yourself with during the off-season. We have over sixty years of proof.
So, when word came out this week of the Lions' team officials giving the brand new rookie class a "positive" lesson on the history of the team, it made me wonder exactly what was said to them.
Was it really all lemon cake?
Maybe it was just death by powerpoint like what I used to go through in AP World History. Or was it highlight reel after highlight reel of Barry Sanders breaking ankles with "The Eye of the Tiger" playing on repeat? We may never really know.
So, I asked myself, "Self, what would you say to the Lions rookies if you had the task to present the history of one of the roughest storms of a football team that the sports world has ever known?"
Here's what I came up with.
WELCOME to DETROIT.
WELCOME (slight pause for dramatic effect) to the Motor City. You are now a representative, on and off the football field, of the greatest industrial town and state in the U.S. of A.
Blue collar is now your collar. You will wear it to work every day with a pride that correlates directly with the good folks who pay their hard-earned, blue collar dollars to watch you play every Sunday. They will be your strength when you feel you have nothing left. They will make you understand the meaning of grit.
That is the history of this team and this city you now represent.
Now, I'm not going to sit here and make marshmallow bunny rabbits rain down upon us. I'm not going to turn on some NFL-directed highlight film of Barry or Calvin and I won't ever force you to see or understand anything.
Everything you learn to understand about this franchise must come from your own personal will to understand.
One of those things you must learn to understand is something you may very well be the first Lions rookies in six decades to actually comprehend. And that is that you are not the past. You are the present and the future.
No tide is fought with such a tread.
When nobody believes in you – make them. They say too much pride is a bad thing. That's not the case around here. Take a walk up river and see why.
To conclude, I will end it here: Detroit is a place with people who no matter how many times mud is thrown in their face and all seems lost, they lift themselves back up and come right back. This Lions organization hasn't really always helped out with the lifting back up.
That changes right… damn… now.
("HUDDLE UP!… LIFT ME UP ON THREE, LIFT ME UP ON THREE… LIFT ME UP!")
This article is published as part of a partnership between
Metro Times
and
Detroit Sports Nation
.