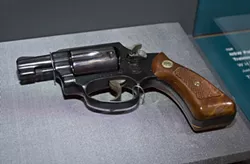 A 5-year-old girl fatally shot herself on Detroit's westside Wednesday morning, according to the
Detroit News
.
The child, Mariah Davis, discovered a loaded .38 caliber handgun underneath her grandmother's pillow around midnight and brought it back into a room she shared with a 3-year-old and 1-year-old, according to the Detroit Police Department.
"She fired a shot, striking herself in the body," Detroit police officer Dan Donakowski told the
Detroit Free Press.
The other children were not injured.
Mariah's grandparents were home at the time of the shooting, according to police. The grandmother was downstairs cooking and the grandfather was watching TV in another room.
Since Easter Sunday, four children — including Mariah — have been shot in the city's 8th Precinct. All but one of these shooting have been fatal. Mariah is the second child to shoot herself. Last weekend, a 9-year-old boy in the precinct found a gun outside and accidentally shot himself in the hand. His injury was nonfatal.
"People need to either keep their guns unloaded or use child locks," Assistant Police Chief Steve Dolunt told
The
Detroit News.
"We've had several programs in which we've given free child locks. It's sad and tragic that a child has to die this way when it could have been avoided.
"Gun owners need to be responsible. We've been doing gun safety programs for years, and we'll keep doing them. People must think 'it won't happen to me' — until it happens to them."
Mariah is the third metro Detroit child to cause self-inflicted gun wounds this year. In addition to her and the 9-year-old boy, there was an 11-year-old boy in southwest Detroit who
shot himself in the buttock
s while home alone, April 7.
Last year, there were three incidents of metro Detroit children injuring or killing themselves with firearms and 278 incidents nationally, according to Everytown for Gun Safety, a non-profit working to end gun violence and build safer communities.