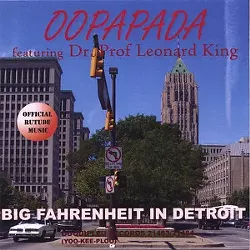 What's Oopapada? It's the project that drummer and vocalist Dr. Prof. Leonard King has with organist Daniel Meinecke, trumpeter Jimmy Smith, and saxophonist James Hughes.
A few months ago, after we ran local music expert
Aaron Anderson's illuminating interview with Dr. Prof. Leonard King
, he sent a note of thanks. "[Anderson] did a really good job with the interview's questions, plus I want to thank you for 'green-lighting' the article ... thank you for 'getting it,'" he wrote. King reflected in the note that in his 50-plus years in Detroit as a professional musician — one with an international scope, too, since people love
Saturday Night
the world over — that
MT
article was only the fourth ever on him and his work. "One in
Free Press
in '08, and two for online publications," he wrote.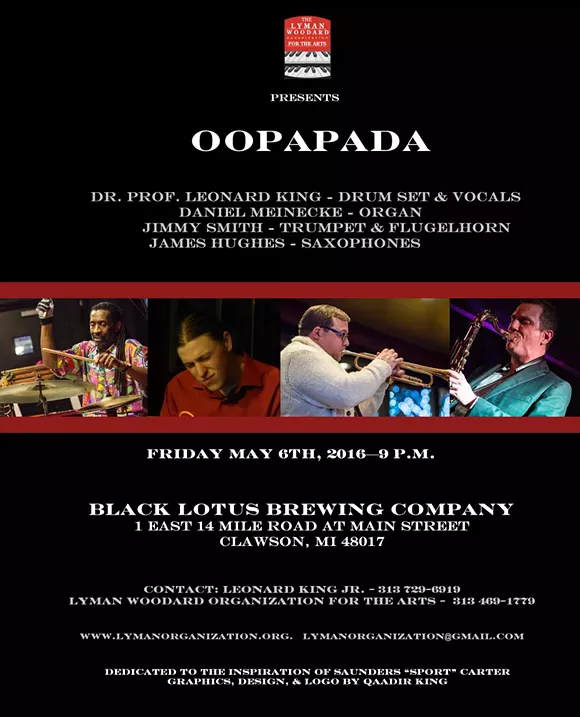 Anderson spoke with King for a long time, and we only ran part of their conversation. What follows are some excerpts from the piece, all in King's own voice.
As a kid, I wanted to have the respect of the elders. I wanted to be good enough for them to say: Call this young man, he knows a lot of music and song. I bounced off a lot of gigs just by knowing a lot of songs. Even if I didn't know a song, I could just tell by the direction of the chorus what was going on. I wanted to be with the cats my age but also with the elders. And back then parents didn't have to worry about their kids getting abducted and things like that.

I decided even before I took drum lessons, this is what my life was gonna be. I would fantasize about it happening. Always daydreaming. In school they would have "yellow sheets" like progress reports. They would always write, 'Thinks about music all the time.' Dreaming on the desk. I look back and think like kids who don't do well in math, and are good in music — math is half of music. He's clearly good at math he just needs to be shown. We're taught to be afraid of math because of the banking industry, but I'm not gonna get into that right now. But they keep you afraid of percentages and stuff. But I'm talking about the banking cartel.

I wanted to work in other areas of music. I worked in wholesale, retail, recording. I was also a music therapist. I don't have a degree in it, but I was good at it. One time I walked into a club and the atmosphere was poison. Just poison. And I'm bringing the first load in. I already know what I gotta do. How am I supposed to play music in here when there is bad blood between some employees. That wasn't my job to figure out. By the time we got set up and everyone filed in I already knew what the first song was gonna be. I gotta cleanse the atmosphere. When you pay attention to human nature and assess the place, you gotta figure out what needs to be done.

I'm glad to still be in the life that I set out to do in the first place. I understand why some people quit. There was one guy who quit because he said how disappointing things were going. I asked him what did he expect. I said sometimes our expectations screw us up. What were you looking for? Something unrealistic? You were in a contract with someone; they don't have to accommodating. I never sought out anyone to manage me. I've been in the position to have the final say-so. That has been the most rewarding. If I screw it up, I can always fix it up.

I didn't want to have my wings clipped not only as a musician but as a person too. I wanted to fly. This is our fourth year as an organization. We intend to be around. I'll end by saying this: My friend Sanders Carter, his nickname was Sport. We were in 'Nam together. I was complaining about club owners and he's listening to me and when I finally ran our of air, he said, You finished? I said, Yeah. He said, You sure? He said, You've been going on and on about club owners not doing their job. And how can you get mad when someone is not doing your job, you know that's your job. I had never seen myself in that light. I didn't even have a comeback.

That's why in our flyers it says 'In dedication to Sanders Sport Carter.' He planted a seed. I've been doing concerts since 1980, but now this is for keeps.
Oopapada performs this Friday, May 6, at the Black Lotus Brewery Company, 1 E. 14 Mile Rd., Clawson. It starts at 9 p.m. and admission is free.