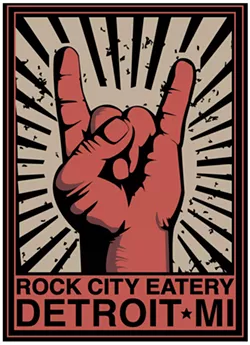 Late last year we reported that hip Hamtramck restaurant
Rock City Eatery
would be
moving
from its Joseph Campau digs to a new location in Midtown.
The restaurant is owned and operated by the husband-and-wife team of Nikita Sanches (who's also the chef) and Jessica Imbronone Sanches, and the couple decided that after just three years in Hamtown, it was time to move to bigger digs in the big city.
While an opening date for the new location hasn't been decided yet, construction is now underway at the 3,600-square-foot space where local artisan
Dave Hudson
will be designing and building handcrafted furniture for the dining room along with a custom bar and shelving.
According to a press release, the space will reflect the city's automotive history (it's an old automotive Packard plant), while keeping the casual, easy-going aesthetic and vibe of the Hamtramck location.
"It was important to us that our new location feel the same as what we originally created in Hamtramck," Imbronone Sanches says. "Expect an upgraded version."
Much like the original location, the new space will feature exposed brick and unfinished walls. It will also be decorated with original art by rock photographer Kay Young, as well as iconic Detroit artist
Niagara
.
We'll keep you updated when we hear a definite moving date, which will probably be inaccurate because, well, construction. For now you can enjoy Rock City's
award-winning poutine
(and we also suggest you try the BBQ pork mac and cheese) at 11411 Joseph Campau, Hamtramck.