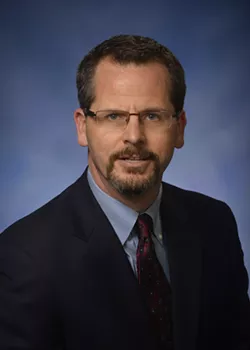 After Oakland County Executive L. Brooks Patterson
backed out of a 910 AM radio show
due to his re-election campaign, the station is bringing in the real GOP talent: disgraced former state Rep. Todd Courser.
Courser —
who was charged in February
with lying under oath and three counts of misconduct in office after an attempted cover-up of an affair involving his fellow Tea Party lawmaker, former state Rep. Cindy Gamrat — will host the 4-5 p.m. slot for the Southfield-based station on Saturdays beginning April 30.
The show will feature Courser "saying what needs to be said and revealing what needs to be revealed and pulling back the curtain on corrupt government!" according to a press release.
Courser's resignation from office and the subsequent felony charges against him came after a scheme to circulate an email alleging he was spotted having gay sex behind a Lansing bar in an attempt to distract from his affair with Gamrat.
Earlier this month,
Courser announced he's running for Lapeer County prosecutor
.
Courser's show is "a great opportunity to inform our listeners across the state of Michigan regarding the inner workings of decision-making in our state capital as it relates to the city of Detroit," 910 AM CEO Kevin Adell says in a release from the station.
:::averts eyes, whistles:::