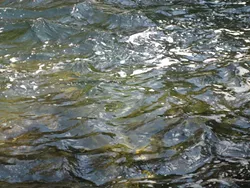 Michigan Attorney General Bill Schuette is expected to announce criminal charges related to the Flint water crisis Wednesday, reports the
Detroit Free Press
.
Schuette sent out an email to media members Tuesday saying he would be making a big announcement at 1 PM tomorrow. While the content of that announcement was not disclosed, the
Detroit Free Press
says it has three sources familiar with the investigation who shared that it has to do with criminal charges against people with leadership roles at the Michigan Department of Environmental Quality and within the City of Flint.
"Schuette is to announce felony and misdemeanor charges against at least two, and possibly as many as four people, according to two other sources familiar with the investigation," write Paul Egan and Matthew Dolan of the
Detroit Free Press
, adding that their sources say the investigation is ongoing and more charges are expected.
Freep
is reporting that one of the people being charged is a Flint city official who signed off on paperwork that falsely suggested that the homes that were tested for lead levels — and fell under the federal Lead and Copper Rule — had lead service lines. The paper's sources say this was false, and allege that the low lead level results this summer came from the fact that officials were purposely not testing homes with lead service lines.
It is being reported by the
Detroit Free Press
that all the charges relate to the contamination of Flint's drinking water and not to the 12 deadly cases of Legionnaires' disease that many speculate were caused by the contaminated water.