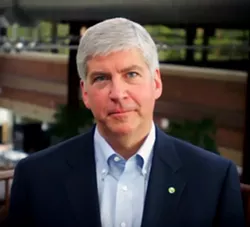 If you were upset that Michigan tax dollars were going towards Gov. Rick Snyder's Flint-related legal fees, at least you can gain some solace in the fact that we're paying for
skilled
lawyers.
The
MI taxpayer-funded lawyers
filed a complaint last Monday stating that a suit filed against the governor should be dismissed because the ten plaintiffs failed to meet a six month deadline following the "cause of action."
The lawsuit was filed in January 2016 and, according to the suit, the issue (read: the Flint water crisis) began in April 2014 when Flint connected to the Flint River as water source.
"Plaintiffs did not give timely notice of their claims. There is no legal basis for extending the notice period," the governor's complaint says.
The class action lawsuit in question was filed on January 19th and seeks "compensatory damages" for those affected by the Flint water crisis. It names Snyder, former emergency managers Darnell Earley and Jerry Ambrose as defendants, as well as the Michigan Department of Environment Quality and the Michigan Department of Health and Human Services.
"For more than 18 months, state and local government officials ignored irrefutable evidence that the water pumped from the Flint River exposed the Plaintiffs and the Plaintiff Class to extreme toxicity, causing serious and dire injury and health hazards, and property damage to the Flint water users," the federal suit read.
Deborah A. La Belle, attorney for the plaintiffs, told
The Detroit News
that Snyder's complaint is "disingenuous," since it would have been impossible for her clients to file a suit before Gov. Snyder acknowledge there was even a problem in Flint (this did not happen until October).
"There are questions of fraudulent concealment (by the governor) and I don't think you can claim on the one hand people have not timely filed when you concealed the information that would later lead them to the danger," La Belle told
The Detroit News
.
"I would ask the governor why he didn't take steps earlier to raise the issue," she added.