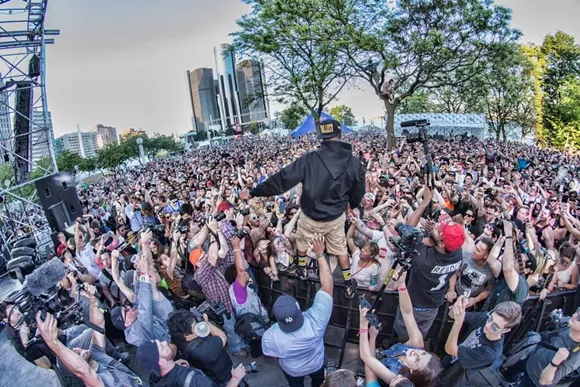 If you're trying to figure out which day to attend Movement and score a day pass while you still can, this list is for you. If you intend to go all weekend and want to see how you can possibly be in three places at the same time for multiple days, then this list is also for you.
This is the tenth year that Paxahau is running Movement, and it really is a crazy-good lineup, headlined, of course, by Detroit dance music spiritual forefathers, Kraftwerk. As you can see, the stage lineups feature over 120 performances across six different stages inside Hart Plaza and it goes down this Memorial Day weekend, May 28-30, 2016.
Single-day tickets start at $75 and you can get them as well as weekend-long, three-day passes over at
www.movement.us
. The promoters encourage you to get tickets in advance: "GA reached near capacity and VIP sold out in 2015."
Aaaaaaand, here is the full schedule, friends. Party safely! Remember to hydrate.
Saturday
Movement Main Stage
2pm-3:30pm Rickers
3:30pm-5pm Sonja Moonear
5pm-6pm DeWalta & Mike Shannon - live
6pm-7:30pm Seth Troxler
7:40pm-8:40pm Juan Atkins and Moritz von Oswald Present: Borderland
8:40pm-10:10pm Maceo Plex
10:30pm-12am Kraftwerk - 3D
Red Bull Music Academy Stage
2pm-3:30pm Jeff Risk
3:30pm-5pm Shady P
5pm-6:30pm Kyle Hall
6:30pm-8pm DāM-FunK (DJ Set)
8pm-9:45pm Kenny Dope
9:45pm-10:45pm Four Tet
11pm-12am Caribou
Beatport Stage
2pm-4pm Mister Joshooa
4pm-5:30pm Guti - live
5:30pm-7pm Zip
7pm-8:30pm Davide Squillace
8:30pm-10pm Marc Houle
10pm-12am Nic Fanciulli
Made In Detroit Stage presented by THUMP
Detroit Love showcase
12pm-2pm AL Ester
2pm-3pm Niko Marks
3pm-4pm La Fleur
4pm-5:30pm Paul Woolford
5:30pm-7pm Matthew Dear
7pm-9pm Stacey Pullen
9pm-11pm Carl Craig
Underground Stage
2pm-4pm Project 313
4pm-5:30pm Andrei Morant
5:30pm-7pm Kyle Geiger
7pm-8:30pm Jay Denham
8:30pm-10pm Scuba
10pm-12am Len Faki
Opportunity Detroit Stage
Interdimensional Transmissions showcase
2pm-3pm Scott Zacharias
3pm-4pm Israel Vines LIVE
4pm-5pm Patrick Russell
5pm-6pm Mike Servito b2b Derek Plaslaiko
6pm-7pm Gay Marvine
7pm-8pm Carlos Souffront
8pm-9pm Ectomorph LIVE
9pm-10pm Claude Young
Sunday
Movement Main Stage
2pm-4pm Barem
4pm-5:30pm Bjarki - live
5:30pm-7pm Matador - live
7pm-9pm Loco Dice
9pm-10:30pm Adam Beyer
10:45pm-12am dubfire:live HYBRID
Red Bull Music Academy Stage
2pm-4pm Pontchartrain
4pm-6pm Honey Soundsystem
6pm-8pm The Black Madonna
8pm-9:30pm Tiga
9:30pm-10:40pm Will Sessions feat. Amp Fiddler - live
11pm-12am RZA feat. Stone Mecca
Beatport Stage
2pm-4pm Job Jobse
4pm-6pm DJ Tennis
6pm-7:30pm Heidi
7:30pm-9pm Magda
9pm-10pm Âme - DJ Set
10pm-12am Tale of Us
Made In Detroit Stage presented by THUMP
12pm-1:30pm Eddie C
1:30pm-3pm No Regular Play - live
3pm-4:30pm Ryan Crosson
4:30pm-6pm Lee Curtiss
6pm-7:30pm Shaun Reeves
7:30pm-9pm Art Department
9pm-10:30pm Ellen Allien
10:30pm-12am Eddie Fowlkes
Underground Stage
OWSLA Showcase
2pm-3pm Rezz
3pm-4pm Josh Pan
4pm-5pm Mija
5pm-6pm Vindata
6pm-7pm Bixel Boys
7pm-8pm Alex Metric
8pm-9pm Sliink
9pm-10:30pm What So Not
10:30pm-12am Kill The Noise
Opportunity Detroit Stage
2pm-3:15pm Rebecca Goldberg
3:15pm-4:30pm Loren
4:30pm-5:45pm Ryan McCray
5:45pm-7pm Chuck Daniels
7pm-8:30pm DJ Seoul
8:30pm-10pm Mike Huckaby
Monday

Movement Main Stage
2pm-3:30pm FIT Siegel
3:30pm-5pm Stone Owl - live
5pm-6:30pm Anja Schneider
6:30pm-8:30pm John Digweed
8:30pm-10:30pm Chris Liebing
10:45pm-12am Modeselektor – live
Red Bull Music Academy Stage
2pm-3:30pm Wheez-ie
3:30pm-4:30pm DJ FUNK
4:30pm-5:30pm DJ Godfather
5:30pm-6:30pm Big Freedia
6:30pm-7pm ZelooperZ
7pm-8:30pm J.Phlip
8:30pm-10pm Justin Martin
10pm-12am GET REAL: Green Velvet & Claude VonStroke
Beatport Stage
PLAYdifferently presents Prototypes Tour
2pm-4pm Hito
4pm-6pm tINI
6pm-8:30pm Josepeh Capriati
8:30pm-12am Richie Hawtin
Made In Detroit Stage presented by THUMP
Kevin Saunderson presents ORIGINS: Elevation
12pm-1:30pm Art Payne & Keith Martin
1:30pm-2:45pm Stacey Hotwaxx Hale
2:45pm-4pm Bruce Bailey
4pm-6pm The Saunderson Brothers
6pm-7:30pm Delano Smith
7:30pm-9pm MK (Marc Kinchen)
9pm-10:30pm Guy Gerber
10:30pm-12am Kevin Saunderson
Underground Stage
Acid showcase
2pm - 3pm Abbe & Toth - live
3pm-4:30pm Jared Wilson
4:30pm-6pm 2AMFM
6pm-7pm Tin Man
7pm-8:30pm DJ Pierre
8:30pm-10pm Nina Kraviz
10pm-12am Boys Noize
Opportunity Detroit Stage
Yo Sucka! showcase (2pm-5pm)
Konkrete Jungle showcase (5pm-10pm)
2pm-3pm The Friend
3pm-4pm Brian Gillespie
4pm-5pm Marashall Applewhite
5pm-5:45pm Calico
5:45pm-6:30pm Laceration Selekta
6:30pm-7:15pm Mark 8en Moss
7:15pm-8pm Dilemma
8pm-10pm Dub Phizix & MC Strategy
MC 5pm-8pm Feat: MC Bombsca
Ready to see it again as a graphic? OK, you asked: