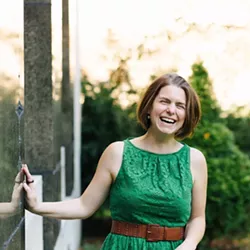 Some stories demand more than news coverage can give. More depth, more pages, more time.
The still-unfolding saga of Flint's tainted water is certainly one such story, the culmination not only of years of political wrangling and official mismanagement but also of a much longer evolving trend of disinvestment in center cities and America's aging infrastructure.
Detroit-based freelance journalist and self-described "literary agitator" Anna Clark is documenting that story in her upcoming project, titled
Water's Perfect Memory
. Clark
announced this morning
on her blog that publisher Metropolitan Books has purchased the rights to publish the book.
In her description of the book, she writes:
"If 'Watts' came to be synonymous with the 20th century urban crisis, 'Flint' is synonymous with the 21st century urban crisis - a cascading series of obstacles that sets certain cities up to fail."
Along with that description, Clark set out a series of promises to do the project justice for the sake of the citizens of Flint and other cities suffering from decades of disinvestment, and to share her earnings from the project with organizations working in the city.
It should be a good read, and one we can only hope our leaders take to heart in time to avert the next failure of our state's aging infrastructure.