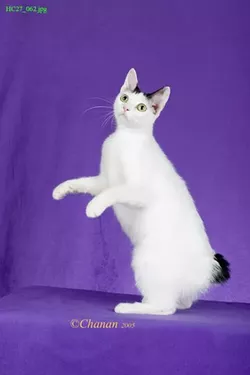 BREAKING CAT NEWS: this is pawsibly the best news we've heard all week. Furget whatever you were planning on doing this Saturday because fancy felines from around the country will be competing to earn Top Cat status — fur real, we are not making this up — at the 2015 annual CFA Allbreed cat show sponsored by the
Just Cat-In Around Fanciers
.
On April 9 at the Melvindale Ice Arena & Community Civic Center, up to 200 cats will compete for their mewment in the spotlight. Judges will be looking for felines with catitude, style, and grace, and the show will feature clawsome breeds such as Siamese, Persian, Maine Coon, and the supurrior Sphynx.
The kittles will show off their tail-ents and breeders will be on site to answer any questions, plus spectators will have a chance to see the cats "up close and in the fur" while they wait to compete.
Tickets will be available at the gate, admission is $6 for adults, $5 for seniors and $4 for kids over six years old. Kids under six are furtunately free.
Beclaws we know you want more info,
here's a link
that's sure to have you feline fine.
Can't get enough cats? Check out our
slideshow of 14 of the best cat meme all of time
, they're...hiss-sterical.