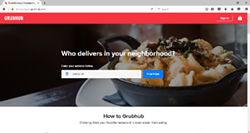 Because sometimes you get sick of the same ol' delivery options, Grubhub is now delivering meals for Detroit-area restaurants, a company announcement this week says.
The Chicago-based online ordering platform entered the delivery game in 2014. It has since been testing the waters of providing its own network of drivers in Chicago, San Francisco, and Los Angeles. The service allows dining establishments that lack their own fleets of delivery drivers to provide the at-home option.
Grubhub has had a Detroit presence since 2012, but only provided an online-ordering system in Detroit. Its expanded service comes as the company is vying to compete with other on-demand delivery services like Google and Amazon. This week, the
company announced
it acquired DiningIn and has signed an agreement to acquire Restaurants on the Run.
The Detroit market has been slow to be added to such services, still lacking in the many on-demand courier type apps like Postmates, DoorDash, and Seamless. Last fall, Google Express, a next-day service that delivers non-perishables to people's doors, entered southeast Michigan. Other companies, like Blue Apron and Plated (both of which deliver food and recipes for DIY dining at home) have been in the region for the past few years.