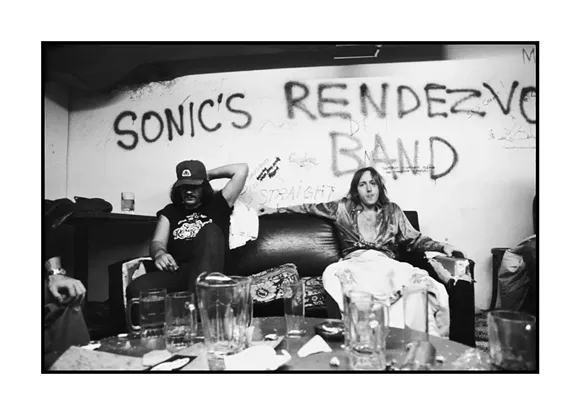 David Thomas of Pere Ubu caught in a pensive moment backstage before a show? Niagara applying makeup? Fred and Patti Smith caught posing in a way that might not even be a pose? All that, plus an appreciation by (and with rare poem from) Iggy Pop?
Yes, all you have to do to see these things is
click right here
. These sixteen terrific photos were just published today in
Sensitive Skin,
Bernard Meisler's magazine that's the heir to such classic arts journals as
the Portable Lower East Side
and
Between C and D
.
Rynski was friends with Destroy All Monsters at the height of their snarling, Asheton-induced badassery and hung around the scene then— going to shows, and taking tremendous photos. "These pics are horny and bad. Fuck if you were a normal person from a normal place you would look at this shit and say what the fuck are these people trying to do," as Pop writes.