Politico
published a long article on policing in Dearborn on Friday. The piece aims to better understand how law enforcement agencies are plugging into counterterrorism efforts, especially after comments like GOP presidential candidate Sen. Ted Cruz's that
ask authorities
to "patrol and secure Muslim neighborhoods" following Tuesday's terrorist attack in Brussels.
Unfortunately, many did not get past the article's lede (In journalism-speak, this is the first few sentences that hook a reader in).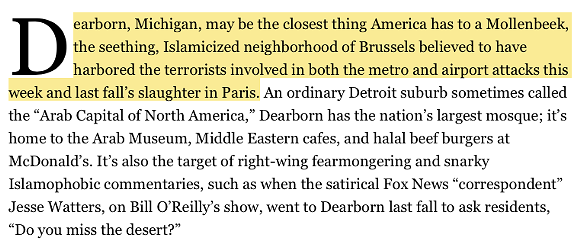 The intro by Michael Hirsh, the magazine's national editor, did not sit well with many, who took to Twitter to ask why the publication would allow such a vulgar, Islamophobic mentality to be amplified by a mainstream outlet. Is the paper trying to imply Dearborn residents are terrorists-in-waiting?
POLITICO & @michaelphirsh demonstrate that Trump/Cruz anti-Muslim bigotry is mainstream https://t.co/DPsT84cKnX pic.twitter.com/l0VlEmZxel

— Glenn Greenwald (@ggreenwald) March 25, 2016
This is trashy, racist and ignorant, @politico. https://t.co/qDbNdINqwP pic.twitter.com/m2T5ocTzMI

— southpaw (@nycsouthpaw) March 25, 2016
This first sentence strikes me as a *tad* unfair to Dearborn: https://t.co/awqSCq3gfW pic.twitter.com/PdcZED5ZqV

— David Uberti (@DavidUberti) March 25, 2016
damn, politico, this is really fucked up language https://t.co/SjYhh9A1oP pic.twitter.com/4Ru5fQq8Sy

— ready 4 december (@onekade) March 25, 2016
Gross https://t.co/adu1RMkkEN

— Christopher Hayes (@chrislhayes) March 25, 2016
While haters are going to hate,
Politico
's defending the piece. Zack Stanton, the publication's digital editor, questioned whether people were reading beyond the first line, arguing the article aims to show how Dearborn's different from majority Arab cities like, say, Mollenbeek.
.@chrislhayes Did you read beyond the first line? The piece is a critique of that comparison https://t.co/rqCwwzQcES pic.twitter.com/iUZ9UGy0hM

— Zack Stanton (@zackstanton) March 25, 2016
So, while Politico's first sentence may not be as problematic as some may think, the rest of the story does point out some other issues, namely that U.S. Muslim communities are more or less already being patrolled. While the article tries to draw a line between "patrolling" and "sophisticated if sometimes intrusive outreach," at the end of the day, it's semantics.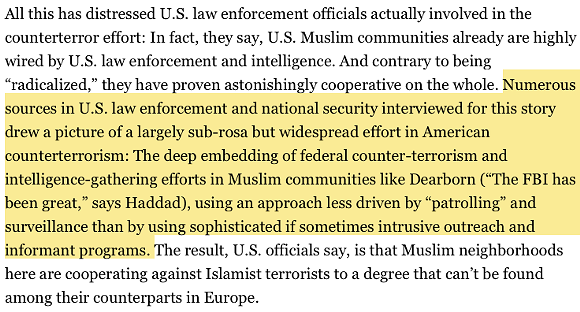 The article makes an effort to point out how Muslims in Dearborn are working with law enforcement — but what some may view as problematic is that this thesis is working off the assumption that they wouldn't.
Anyway, check it out
here
and let us know what you think in the comments.