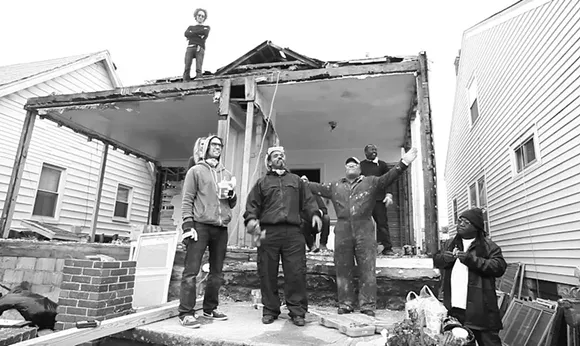 That Detroit house that popped up at Art Rotterdam is making headlines again ... And once again, some Detroiters aren't happy about it.
The Free Press reported that neighbors of the home that artist Ryan Mendoza "moved" to the Netherlands have petitioned City Council for an emergency demolition order to clean up the mess the artist and his contractor left behind.
Only the facade of the two-story home was used to create the White House art installation, leaving the framed interior and foundation behind, exposed to the elements, water-logged plaster falling from exposed beams. Neighbors call it dangerous and an eyesore.
Mendoza directed blame for the delay in demolition to his hired contractors, but the controversy is likely to cast a shadow over his return to Detroit. He and his wife will be at next weekend's Freep Film Festival to show the short film "Coming Home," which Mendoza's wife produced to accompany the White House exhibit at Art Rotterdam.