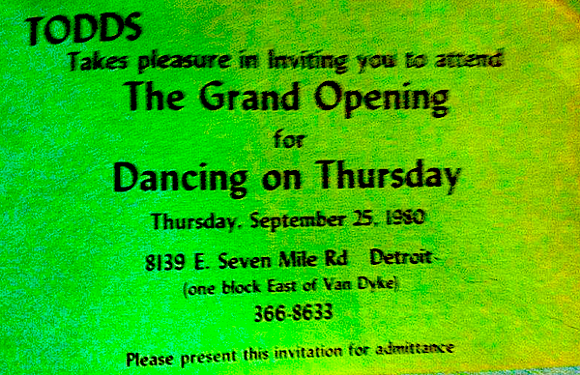 In a day and age of punky power pop advertising jingles, it's hard to imagine, but there was a time when punk was
scary
. Like, so scary that punks were always the bad guys on TV. For instance, look at this clip with a young William Forsythe:
... or this infamous episode of Quincy ...
Our point? Outside of a few places in Hamtramck, in the early 1980s, bar and club owners wouldn't let punk promoters take their stage. It was a scene cobbled together with rented halls, underused bowling alleys, and the few friendly venue owners who'd let the punks in.
Luckily for Detroit's developing hardcore scene, that included a few gay bars that would have special punk nights, which could be a "worlds collide" sort of thing for Detroit's punks and what was then
not
called "the LGBTQ community." If you can imagine the weirdest mix of people possible — a gay drinking crowd, drag queens, new wave kids, goths, punks, and even skinheads — that would pretty much sum up some of the more interesting punk nights.
And that unusual mix often prevailed every other Thursday night at Todd's, located 8139 E. Seven Mile Rd., Detroit. And that means an interesting cross-section of several scenes now claims the long-lost dance club as the site of many coming-of-age moments.
Those memories will certainly be fondly recalled by all-grown-up members of the punk and,
yes
, LGBT communities at Saturday night's Todd's Reunion, taking place at the Tangent Gallery and Hastings Street Ballroom. Entertainment will include master of ceremonies Jimmy Doom, fashions from Atelier Benson and Atelier Gothique, and, as always, DJ Charles English spinning tunes from the 1980s and beyond.

Tickets are available online ($15 individual, $25 a couple) and at the door ($17 and $30, respectively), and the event starts at 8 p.m. Saturday, March 26, at Tangent Gallery, 715 Milwaukee Ave., Detroit; 313-873-2955.