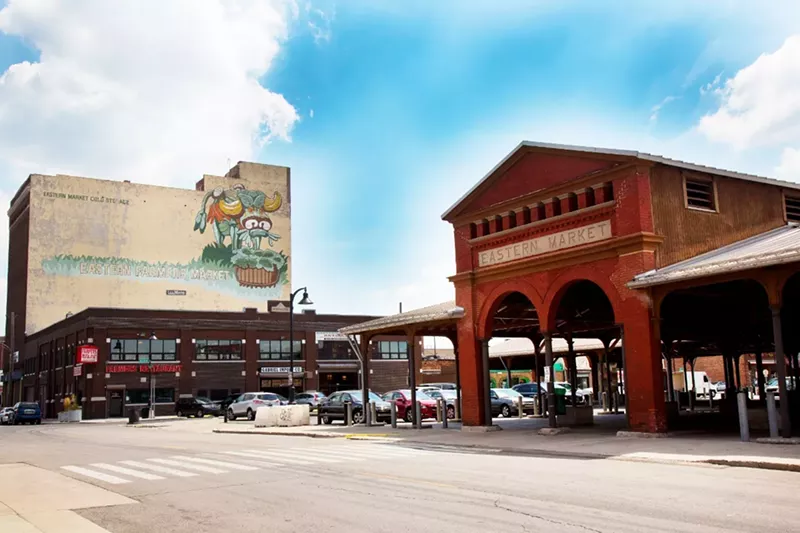 Even though Gov. Gretchen Whitmer issued an
executive order
instructing Michiganders to stay at home as much as possible for the next three weeks in order to slow the spread of the coronavirus, you can still shop at Eastern Market — and avoid the crowds.
Like many local businesses, Eastern Market is tweaking its model to adapt to the pandemic. Starting Saturday, March 28, you can pick up items using online ordering and curbside pickup.
"This is the plan moving forward," Eastern Market's chief marketing officer Erin Gaiser tells
Metro Times
. "Yes things change and evolve each day!"
Items are available for pickup starting at 1 p.m. on Saturday. Customers must place their order
here
before midnight on Thursday while supplies last.
From Gaiser, here are other ways to shop at Eastern Market:
1. Saturday Market: The market is still open for business every Saturday from 6 a.m.-4 p.m. We have vendors with food, vegetable plants, & personal care products. We're shifting market procedures & spaces as much as possible to limit contact and increase social distancing.

2. Saturday Market Food Boxes: Pre-order your food during the week, pick-up on Saturday. Orders will open weekly on Tuesdays. Quantities are limited. We sold out boxes for tomorrow and will update and expand for next Saturday. Updates will appear on our website and Facebook as they are available.

3. Tuesday Drive-Thru Bulk Produce: Based on customer feedback, this Tuesday, Eastern Market will be offering curbside pick-up for bulk produce, meat, & other food from 10 a.m. to 2 p.m.! We'll have six locations where you can pick up food along Riopelle Street. Updated order forms and maps will be posted at easternmarket.org.

Here's a full list of available items from Milano Bakery, LKL Packing Co., Smith Meat Packing, Eastern Market Produce, Detroit Wholesale Produce/Kaps Wholesale Produce, and Capital Poultry: https://easternmarket.org/img/EasternMarketBulk_3.31.20.pdf
So many restaurants, so little time. Sign up for our weekly food newsletter delivered every Friday morning for the latest Detroit dining news.