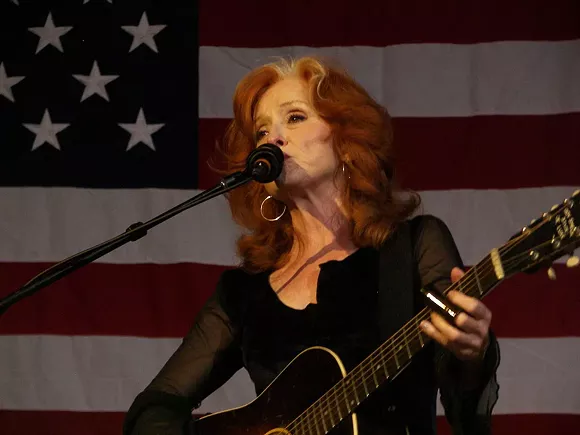 Legendary performer Bonnie Raitt sure did give us something to talk about last night as she performed at the gorgeous Detroit Opera House.

From playing her old favorites to surprising the crowd with some fantastic covers, the evening was rockin' and rollin' just like Raitt's slide guitar.





"I'm here to represent for our generation", Bonnie called out to her fellow baby boomers in the audience. She launched right into a rousing cover of the INXS song "Need You Tonight." It's also the opening track of her newest album Dig In Deep that she's touring.




And dig in deep she did. From playing rockin' songs like "Shakin' Shakin' Shakes" and "Gypsy in Me," she had the crowd tapping their feet and smiling as she did what she does best.



Her guitar work was phenomenal. In the male-dominated world of blues rock, Raitt proved once again that she can hang with the guys, and even teach them a few lessons along the way.

At one point, the performer asked a fan to politely stop filming her and to put her phone away (GASP!). It was a tad alarming at first, and Raitt continued to say, "If you're all filming me, then why am I even here?"

The days of 'No Flash Photography' are long gone, and recording and selfies are so commonplace at shows, it's basically expected, so it was extremely refreshing — even for this millennial — to see a performer ask the audience to do what they paid for: watch a live show.



Her signature voice truly shined on the slower songs when she brought out her acoustic guitar. The crowd was in awe as she played another Bonnie's song - Bonnie Bishop - "Undone." There wasn't a dry eye in the house when Raitt performed her classic "I Can't Make You Love Me," a song that is now being covered by the likes of R&B artist Jazmine Sullivan and Adele.


She even gave a nod to Motown and called out Martha Reeves and Thornetta Davis, both of whom were in the crowd at the Opera House. Her last ode to Detroit was when she told the crowd how she noticed the street we were on was John R. — and her daddy's name was John R. It was a touching tribute to both her father and the city of Detroit.

"My daddy would be proud I was playing such a classy joint," Raitt says.


The evening began with the wonderful blues band California Honeydrops. Their New Orleans-style blues mixed with California harmony married well together. Lead singer Lech Wierzynski has a powerful voice that is raspy and smooth all at the same time. They definitely got the crowd warmed up before Bonnie took to the stage.