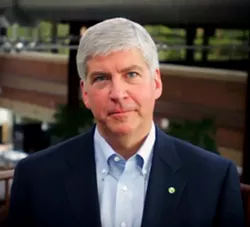 After months of hedging, Gov. Rick Snyder and Darnell Earley have agreed to go to Washington DC and testify before congress about their roles in the Flint water crisis.
If you need a bit of a recap, last month state and federal officials were questioned by the US House Committee on Oversight and Government Reform about the handling of the Flint water crisis. The February hearings specifically centered around how officials dealt with the growing public concern over lead in the drinking water and how the Environmental Protection Agency bungled federal guidances and ignored test results pertaining to the lead-infused water.
Oddly, Gov. Snyder was not invited to testify then and former Emergency Manager Darnell Earley ignored the requests. According to the Detroit Free Press as the time, the congressional committee voted to subpoena Earley, who resigned from his post as Detroit Public Schools Emergency Manager that week, however, the former EM refused the request. When the February 3 hearing began, Rep. Jason Chaffetz (R-Utah) said he would send US Marshals to "hunt him [Earley] down.
Flash forward a month and a half and the gang is all there.
Watch Earley and Gov. Snyder try to explain Flint. It's sure to be a blockbuster.