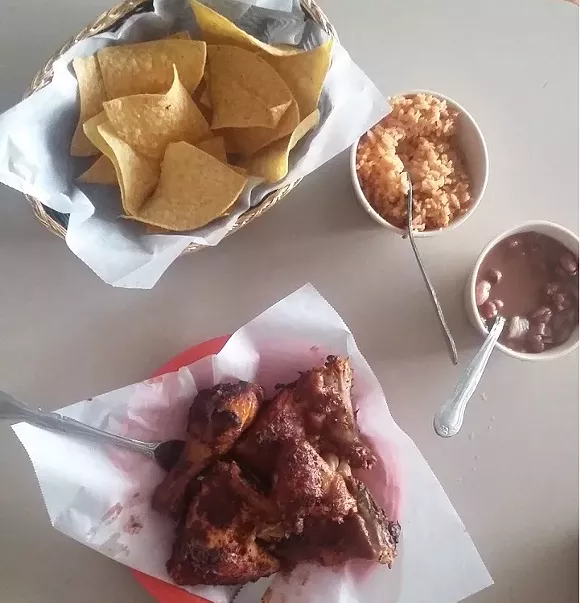 Seems like we're on an endless quest to find the ideal lunch spot, one that delivers on flavor but that doesn't break the bank. We think we found one of the more promising options: the flame-grilled chicken at Taqueria El Rey, on west Vernor Highway. And we're not alone in adoring this hidden gem.
We stopped in this week just before noon, after recently trying it at a source's home. By about 12:30, the place was packed. Two Spanish-speaking ladies ordered a plateful of tacos at the table next to us. Groups of blue collar workers occupied several booths. And at the dining counter, a line of takeout customers was quickly accumulating, telling us that this is a spot that's serious about lunch.
When you catch the aroma of the Mexican eatery's open-air grill pit, situated under a tent adjoining the restaurant, you'll know exactly how it got its reputation.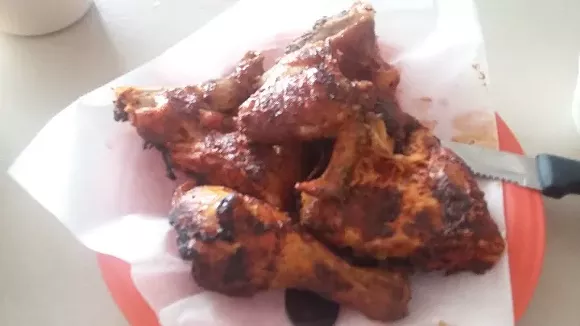 At just $11.50 for a whole chicken, plus sides of rice, beans, tortillas, and salsa, or about $7 for a half a chicken, it's easily a family dinner or lunch for two. The pollo is smoked, low and slow over lump coal, giving it a wonderfully charred flavor, punctuated with a mix of spices. We recommend you pile some of the salsa picante onto the chicken and then scoop up the sides with a warm corn tortilla.
The spot also specializes in tacos with a variety of meats (pastor, lengua/tongue, even cabeza/beef head), ribs, and seafood cocktails. To drink, grab a bottle of "Mexican" Coke (made with cane sugar, not fructose corn syrup) or Jarritos de pina (pineapple). If you stop in after work hours, then choose from a variety of tequila cocktails, micheladas (a beer version of a Bloody Mary), and Mexican beers.
Taqueria El Rey, at 4730 West Vernor Highway, is cash only and is open 11 a.m.-8:30 p.m. Monday-Wednesday; 11 a.m.-9 p.m. Thursdays; 10:30 a.m.-10 p.m. Friday-Saturday; and 10:30 a.m.-9:30 p.m. Sundays.