As the rest of the city council meets for a work group at Hamtramck City Hall on a Tuesday evening, one Muslim council member is off in a side room where national news media are doing interviews. They happen to be in town for the North American International Auto Show, but they're also using this trip as an opportunity to report on the city's new Muslim-majority city council, elected in November.
I know this because I'm lost, and happen to accidentally head into the room where these interviews are taking place. I back out and listen at the door to the line of questioning from our national news media. In this particular interview, they seem to be turning over every stone looking for evidence of conflict. Or are they simply playing devil's advocate? It's hard to tell.
The Muslim councilman is telling the interviewer emphatically that "Sharia Law" won't be a factor in politics. The interviewer changes his tack: how about in their own lives? Doesn't Sharia Law enter into the day-to-day life of the community? The interviewer almost pleads, "In daily matters, outside of politics, do you ever say, 'This doesn't conform to Sharia Law?'" The interviewee is too clever for this trap.
Soon the interviewer is trying to appeal to the emotions, asking about a Muslim candidate's campaign signs that were vandalized. The Muslim councilperson says it was unfortunate.
"But it was more than that! It was a crime!" the interviewer points out, perhaps hoping to elicit a more emotional reaction.
The man in the hot seat points instead to the communitywide reaction condemning the vandalism.
It's an odd scene. The representative from the national media seems almost determined to get one of these Muslim council members to say anything controversial, anything that can be taken out of context, and to no avail.
If these men are especially adroit at handling such questions, it's because, over the last several months, they've fielded scores of phone calls from news outlets all over the world, all looking for a story that shows conflict between longtime residents of an American small town and its new Muslim-majority city council. And everybody in town, from the native-born Caucasians to the newest of immigrants, is determined to deny them this narrative.

It's an early winter morning at Family Donut, on the corner of Conant and Caniff. It's a popular spot for some of Hamtramck's Muslim politicians to gather in the morning, and Councilman Mohammed Hassan drops in, as well as Councilman Saad Almasmari, who sits down and digs into a breakfast burek to talk with me for a while.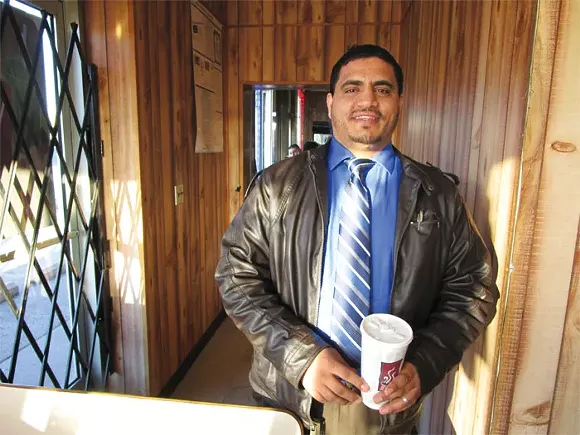 Unlike the Bangladeshi Muslims on city council, Almasmari is part of Hamtramck's Yemeni community. The 29-year-old father of three did everything by the book: Immigrating to the United States and studying business, he now runs a wholesale ice cream business in town.
With the re-election of Councilman Anam Miah, and the election of Bangladeshi Abu Musa, Almasmari's win tipped the council into its current Muslim majority. And since he won the election, he has fielded 104 calls from the media. "That's including you," he says. "About 65 of them were TV shows."
It hasn't all been pleasant. He says his best media encounters were with CNN, Al Jazeera, and Voice of America. "They say the truth," he says. He adds that some of the others were "disrespectful." Yet he adds with a smile, "Whoever is disrespecting me, I make him respect me. With my answers."
That's a fact. More than most politicians, Almasmari has to stress that he's there to represent all the people, to help ensure Hamtramck has more food, more festivals, and more fun. Religion and cultural rivalries hardly enter into his answers. In fact, when his campaign manager, Ibrahim Algahim, touted Almasmari's victory in a post-election speech by saying "today, we show the Polish," you can tell it embarrassed Almasmari, who has since worked hard to smooth any ruffled feathers with Hamtramck's Poles. Though it was just one line in a 45-minute speech with many other topics, you can see it still irritates the councilman: "He said we're going to show the Polish. OK. What are you going to show them? You're going to show them your hard work. That's it."
Almasmari seems every bit the conscientious family man hoping to make a difference in politics. That said, he seems to be aware that, as an officeholder, he's being tested more than most. When I ask him why he wants a seat on the council, he says emphatically: "Why did I want the seat? It's actually my right. It's anybody's right who lives within Hamtramck that is qualified for it, they can run."
That being said, Almasmari is happy to say he did it because he feels he has good ideas. He knows he's just starting out as a politician. He just wants the chance to grow.
"I'm going to be a good council member," he says. "I just need the time. And I am that person who looks at himself as a student on the council. I'm trying to learn. Mr. Hassan, he's a great guy. I'm trying to learn from him. I'm trying to learn from the mayor, from everyone. So I like to ask and I like to improve myself in the council."
Councilman Hassan, in fact, is now in the doughnut shop, and nobody with functioning ears could miss it. The loud and voluble Hassan is surrounded by a small entourage of Bangladeshis, and drops in to shake hands with Almasmari.
Almost as quickly as he blew in, he's gone, and Almasmari is telling me everything I want to hear: "I believe that we're all human, we have to live along together, we have to respect each other, we have to love each other." He leans directly into my audio recorder and declares: "We have to work together to improve this town, regardless of religion, ethnicity, or color of our skin."
I ask, isn't his religion a part of that? He makes a cautious foray into Islam, saying: "The Quran says if you live with your brother, either Muslim or non-Muslim, you got to help him, you got to listen to him, and he's got to help you, gotta listen to you. You got to respect your neighbor, regardless of their religion."

● ● ● ● ●

About a month after the election, I'm sitting in Cafe 1923 with Mayor Karen Majewski. She's just finishing up with a media gauntlet that included her being asked on CNN if she were frightened to be mayor of Hamtramck. She laughs about it now, but says it was deeply disturbing to think you're going to be part of a segment about diversity and suddenly realize the topics are terrorism and security, and the lead question is, "Are you scared?"
"Honestly. I've been in public office for 12 years," Majewski says, "and that was the weirdest question I've ever gotten. I was completely unprepared for it. I get interviewed a lot about the changing demographic and how the people feel about it. Never has anyone ever suggested that [fear] is something that might be an issue here. So I was expecting something about the election and what that means for Hamtramck and the United States and how your community is adjusting. I was not expecting her in my wildest dreams for her to ask me about terrorism, like my neighbors are gonna blow up City Hall or something."
That was only the most bizarre instance in a media hayride that included a Washington Post piece entitled "In the first majority-Muslim U.S. city, residents tense about its future."
Majewski says of the reporter: "I think she did a pretty good job, but I think her story got truncated. She was here for three days and she talked to everyone. But she apologized to me for the headline, because it was misleading. And everyone picked up on that headline."
In fact, it's still open to question whether Hamtramck is majority-Muslim. The headline should have referred to the council, not the city. What's more, the headline's emphasis on tension and conflict doesn't reflect the on-the-ground reality.
"It's pretty amazing that they all see a story here," Majewski says. "It seems all kind of unremarkable on the ground. But to think that they are sending people on planes to come here to scout around. And they're not finding what they're expecting to find. They're looking for the mosque with the big minarets. They're looking for 'the Muslim neighborhood,' you know. They're kind of, surprised that everything is so low-key, and nothing exciting is happening. And it's just kind of normal life."
When it comes to national media scrutinizing Hamtramck as a Muslim hot spot, this isn't the city's first go-round. In 2004, the city allowed the call to prayer to be broadcast by mosques. Back then, The New York Times was the outlet to put "tension" in a headline, and NBC News showed up too. "But this seems more of a frenzy," Majewski says.
After November's election results, international Western media haven't been shy about as they've nosed around town, in search of tension and conflict.
Residents may be able to cite a handful of instances of bigotry, but it doesn't sum up who we are. It's the exception, not the rule.
Majewski addresses me personally, saying: "You live here, you know it's not all smooth sailing and what people say when they think no one else is listening. When it comes to actual living day to day, it doesn't really get in the way of feeling at home here. If it did, those folks already left. If you ask the right questions and you press, then you get signs of conflict. But I think the real story here is that it's so unremarkable."
Majewski isn't just mayor of a city that's largely immigrant, she's second-generation Polish from south-of-the-stockyards Chicago. She has studied and written about immigrant literature and poetry. She's cautiously willing to interpret some of the fear and loathing she sees among former Hamtramck Poles. While she won't defend bigotry or racism, she says it's possible to understand the situation Poles find themselves in.
"I have a lot of love for Polonia," she says. "Those old ladies probably get sold short for their level of tolerance. There's a polish word, tęsknota, that's like a longing. It's part of the migrant experience. You move to a new city and you're longing for that old place and it hurts so much to be in another place. I think there is some of that with the old Polish community here, that tęsknota, not for Poland, but for the old country of Hamtramck. So I'm sympathetic to that: It's a sad thing to watch the world change around you."

● ● ● ● ●

One weekday afternoon I sit down at Aladdin Sweets, a popular Bangladeshi restaurant, with Kamal Rahman.
He's with the Bangladeshi-American Public Affairs Committee, and he's here to help set me straight on the history of immigrants from Bangladesh. A thin, well-educated 47-year-old with a slight accent, he tells me that people have come to Detroit from Bangladesh since the 1920s, although it's been just a trickle compared to the flow of immigrants from, say, Lebanon or Iraq.
Rahman's duties as cultural emissary have included documenting the way Islamic culture has blossomed in the Detroit area, and have even seen him take Sen. Hansen Clarke back to his grandparent's village in Bangladesh. But the meat of his job is helping native-born Americans understand that immigrants aren't invaders, in fact, they're most often the victims of racism and bigotry. He tells of a Bangladeshi family who bought a house near Hamtramck High School and found it vandalized with the message, "You are not wanted here." The family sold the house and never moved to Hamtramck.
"I think the fear is mostly of the unknown," Rahman says. "People aren't familiar with the new culture."
These are the sorts of patently obvious things Rahman has to say over and over. Though he can do it articulately, you wonder why it's necessary to explain that people fleeing sectarianism and terror would embrace America's secular culture and ballot-oriented politics.
"Those who experience conflict, those who experience suffering, they tend to not to want to repeat it," he says. "The Muslims that are coming here, most of them have suffered through war, through terrorism, through everything. They know what to avoid. It's highly unlikely that someone would like to be in the same situation as they were before."
These days, after seeing media people bring up Sharia Law again and again, he doesn't even care to joke about it.
"One of the reporters asked me, 'When do they introduce Sharia Law?'" Rahman says. "I know he was being sarcastic, but I said, 'I read their posters, their fliers, I went to their events. None of them had Sharia Law on the agenda. Unless you have some other way to know about it. I don't. And I live in the community.'"
Islamophobia, Rahman says, comes down to "a lack of knowledge and understanding."

● ● ● ● ●

It's Tuesday afternoon at the offices of The Hamtramck Review, the city's small-town newspaper. Editor Charles "Chip" Sercombe is sprawled out in a chair in the waiting room. With his open-collared button-down shirt and brown sweater, he resembles a high school teacher taking a break. He's trying to tell me what he sees in this story, and it isn't about religion at all.
"I can understand, post-9/11, all the hoopla, and how Americans are going to feel about that, and I can understand all the media attention," Sercombe says. "But to me it's more about the shifting over of the Polish majority and their hold on city government and new ethnic groups coming in and having political power. I don't see it quite through the prism of the Muslim thing, nor did I see it as a Catholic Christian thing before."
Based upon his years of City Hall reporting, Sercombe credibly represents the Bangladeshi community as having more than its share of politically minded men. "They have I don't know how many social groups, and they're all very divided," he says. "It's a community that's still gelling, I think. I see so many parallels with the emerging Polish community of nine decades ago or so: a fractured community, a lot of political infighting. I'm not terribly sure what their goals are, they haven't really articulated it. You hear bits and pieces, but none of it's really laid out."
While he says he isn't sure what the answer is, Sercombe knows that Hamtramck's city politics have always been divided, and full of conflict to the point of farce. Even with fresh faces on the council, in many ways, conflict remains a constant.
"The way the city charter's set up, it shouldn't be that hard," Sercombe says. "That's why you hire a professional city manager to do all that. But they just seem to have the worst luck getting along."
It reminds me of something another interview subject said: "This may not be the generation of Muslim leaders that does us proud."

● ● ● ● ●

Normally, when writing a story about politics, a Metro Times reporter will use that first-person plural to represent the voice of the paper. I realize that, for the purposes of this piece, that's just impossible. As a homeowner and taxpayer in Hamtramck, I have some strong, personal reactions to politics in my hometown.
Let me lay out the situation for you, as I see it:
For more than a year, Hamtramck was under the dictatorship of appointed emergency manager Cathy Square.
Current City Manager Katrina Powell is essentially Square's handpicked successor. As a critic of emergency managers, I should probably dislike Powell, and yet I don't. The upbeat, spiky-haired Floridian, who retains a slight Southern accent, has been something of a surprise.
You'd think she would be an advocate of privatization, but she's made plowing and salting city jobs again, under Director of Public Works Mark Ragsdale. They claim having the city do the work has resulted in significant savings. Powell has capable and hardworking department heads, including Jay Singh, the city assessor, who has developed an application for those seeking reductions in their property assessments. (For years, many got it just by asking, without ever providing a copy of last year's taxes.)
Powell is the glue holding the staff together, but she's been under fire. She was instrumental in the departure of our old police chief, Max Garbarino. That parting of ways has been criticized by Councilman Anam Miah in the pages of The Review. Miah seems to bring a certain bad temper to city council meetings and work groups, and you wonder if it's driven by resentment of Garbarino's departure, because the conflict seemingly revolves around very small issues.
And nobody on council can stand in Powell's way, politically speaking. Given her excellent relationship with the transition advisory board appointed by Gov. Rick Snyder, her recommendations are likely to be approved.
That's right: The council that makes knock-kneed Islamophobes whisper about Sharia Law doesn't have the final say on contracts and most city business due to ongoing state oversight of Hamtramck's finances.
Despite the way he often locks horns with Powell, Councilman Miah is one of the more sedate personalities, a union rep with a progressive streak and a streetwise accent.
Councilwoman Andrea Karpinski is a former Paczki Queen whose family name resonates in the city's Polish history.
Councilman Ian Perrotta is a local guy who replaced the recently deceased Titus Walters.
One of the showiest personalities on council is Mohammed Hassan. From time to time, he's given to grand gestures or talking out of turn until being gaveled into silence.
So you have a not-quite-ready-for-prime-time cast doing their best against a dysfunctional background, and, to my mind, it is often just as fractious and counterproductive as the days a decade ago when mostly Poles sat in council chambers. It's something of a relief that actual city functions — police, fire, public works, contracts — are sequestered behind the firewall of the city manager's office.
For instance, at a recent Tuesday work group, I find myself taking notes on the undue rancor over a three-year contract for work on the city's sewer system.
The bid went out Jan. 28 and nine contractors contacted the city for the documents. Three companies offered bids. Sewer & Water Specialist Inc. was selected for the three-year contract. In fact, Jeff Gibson, the company's owner, is in the room, and wants to seal the deal. He mentions he's worked with the city of Flat Rock and comes highly recommended by the city of Allen Park.
Councilman Miah is dissatisfied that there aren't copies of recommendations, perhaps wishing to play a greater role in the decision-making.
Mayor Majewski interjects that, to her mind, such documents are unimportant. The contract is the fruit of administrative function, of a department head who oversaw a request for proposals.
"I'll take the word of our department head that he got the assurances he needed," she says. "I don't see any red flags."
After becoming bogged down in semantics, the council runs out of work group time and moves on to the chambers for a meeting it's not quite prepared for.
The meeting is, well, pretty entertaining. Councilmen Hassan and Miah both seem to wish they could engage in debate and rhetoric over the contract. (I get the sense Hassan would love to debate anything at all, whether anything at all came of it.) Almasmari, Musa, and the non-Muslim councilmembers are quiet through much of the proceedings.
At one point, City Manager Powell expresses her frustration with the council. They want to review contracts, and she'd rather just take them to the transition advisory board for approval, but when the council is presented with these matters, she complains, they simply want to pick them apart.

● ● ● ● ●

In the end, the contract is defeated 4-3, with Almasmari, Hassan, Miah, Musa voting no. Mayor Majewski says of the transition advisory board, which will probably approve the contract anyway, "I'm sure they'll appreciate that." Councilwoman Karpinski huffs: "That's another reason why we won't ever get [our power] back."
You can understand the attitude of Majewski, Perrotta, and Karpinski. They're realists. Talking about the contract is not going to change anything. The city council should simply pass the contract, because the transition advisory board most certainly will sign off on it anyway. Just keep the machinery of government moving and save the politics for what truly matters.
But you also understand the bloc that opposes the contract's speedy approval. They struggled long and hard to get into office, and, when they got there, they realized they really have no power at all. Between a strong city manager and a transition advisory board that really call the shots, they're reduced to a group that votes yes on preapproved contracts and legislation.
If only the reporters hoping to find conflict and tension had stayed in town for a few brief more months, I think, they'd witness a city council that is riddled with a thousand conflicts. Instead, long after the testimonials about how we all get along, the council provides a farcical theater on how we absolutely don't get along after all.
In the end, though, my real hope isn't in the halls of government at all. The hope isn't with an older generation that seeks power for its own sake, nor is it with the ethnic bloc politics that may produce only very modest results.
Again, in my opinion, the hope is in the thousands of individual interactions that take place outside of government. It's in the cultural weirdness you see throughout the city, where you'll see people wearing 10-gallon hats or leather jackets next to those wearing thawbs, saris, and kufis. It's in the way non-Muslims look forward to Ramadan so they can buy a pound or two of jalapi at the sweets shop. It's in the occasional Bangladeshi guy who shows up quietly for a drink at the bar. Thirty years ago, the polka-punkers of the Polish Muslims had a name that everybody thought was a punch line. Now we're accustomed to seeing the Polish and the Muslim right next to each other. This is the laboratory where assimilation actually takes place, and it continues to impress and to fascinate.
Another place to find hope is with the younger generation. During the hubbub over the election results, more than one student at Hamtramck High School said that the adults were all crazy, and that any ethnic or religious differences were no big deal. They've been getting along since kindergarten, and are way ahead of us when it comes to living together.
My new friend Rahman from the Bangladeshi-American Public Affairs Committee feels similarly. He says, "Our focus should be the second generation. We don't need to become politicians. We need to build politicians. I mean, it's not bad that we have elected officials, but there is much more to it than getting elected. I want to actually see a lawyer getting elected from the Bangladeshi community. I want to see people that are actually involved in political science getting elected in political office."
"It will happen," he says, a soft smile illuminating his face. "It just takes time."