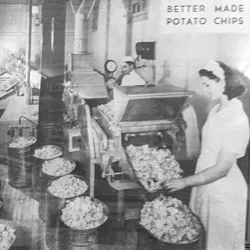 Because if you've got a Feb. 29 birthday, you really only get to celebrate once every four years, Better Made wants to show you some love by giving you some free chips.
Go into the Better Made retail store at 10148 Gratiot (wait, there's actually a whole store dedicated solely to the Detroit-based snacks?? Why didn't anyone tell us?) between Tuesday, March 1 and Friday, March 4, show the sales clerk a valid Michigan ID or drivers license, and you'll get a value size bag of chips of your choice (the deal does not apply on the actual Leap Day, as the store is closed on Mondays).
Not a bad deal if the trip to the east side Detroit spot is not too much of a hassle to get to. Throw in some onion dip and maybe some Faygo and you've got yourself a decent spread for a little birthday party.
For non-Leap Day folks, who buy the snack foods online,
place an order
of $100 or less at today (Feb. 29) for a 29 percent discount. Plus, $5 from every order will be donated to the Ted Lindsay Foundation located in Troy, which funds Autism research and educational programs.