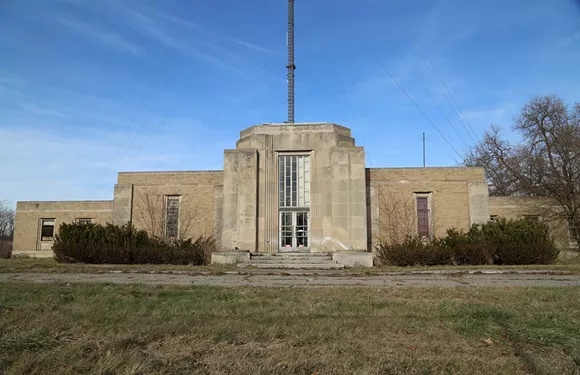 The restaurant group that brought us Clarkston Union Bar & Kitchen, Vinsetta Garage, and Fenton Fire Hall and Pumphouse is back on the grind to develop a new eatery - this time repurposing a historic Albert Kahn building in Oak Park that once housed a radio station.
Plans for the new restaurant, which will sit in the old WWJ transmitter building on Eight Mile, were announced Thursday by Curt Catallo, co-owner of Union Joints, during the inner-ring 'burb's state of the city address.
Union Joints is known throughout the area for rehabbing old buildings of architectural significance and turning them into destinations for comfort food. The group got its start in 1995, when Catallo and team repurposed an abandoned Baptist church into Clarkston Union Bar & Kitchen.
Since then, the group has taken on similar projects throughout metro Detroit, including in 2012, when it took an old-time mechanic's garage and transformed the popular Vinsetta Garage on Woodward Avenue in Berkley.
"For us, these buildings that were born to serve one purpose and then go on to serve another purpose, that's the bait that draws us," Catallo tells us.
This latest project is set at 12700 Eight Mile, where the Kahn-designed transmitter plant, funded by Scripps family, opened in 1936 for use by WWJ, then owned by The Detroit News.
Under the call number 8MK, the building changed hands a few times over the years, finally shuttering in 1995.
Tasked with designing the new space will be Ann Stevenson and Quinn Evans Architects, and it will feature seating for about 100, an outdoor dining area, and a DJ booth to play up the building's past. Catallo says the group will work to gain historic designation as well.
The menu, to be created by Union Joints' executive chef Aaron Cozadd, will continue in a similar vein as the other establishments, with a focus on American comfort food.
Perhaps as interesting about the new development is its placement in Oak Park, which until last year banned restaurants from serving spirits and mixed drinks. The city in 2013 changed its long standing as a completely dry city by allowing beer and wine to be sold in dining establishments.
"Really, the city of Oak Park and the voters of Oak Park facilitated this to happen," Catallo tells us.
Oak Park city manager Erik Tungate tells us the development is just an early example of the potential the working-class suburb has in store for it, as more restaurateurs forgo trendier parts of the region that may charge a premium for a coveted liquor license.
"The flood gates have opened," Tungate says.
The project, for now titled 8MK in recognition of those long ago call letters, is supposed to be completed sometime in 2017 or 2018.