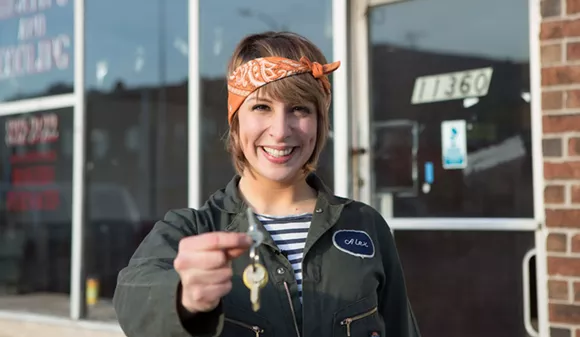 In a move to accommodate her rapidly growing choco-empire, Bon Bon Bon's Alexandra Clark closed this week on a 3,000-square-foot property in Hamtramck.
Clark's tiny chocolate shop, a rented storefront on a side street off of Hamtramck's main drag of Joseph Campau, opened in 2014 to wild popularity. The small business quickly caught national attention from the likes of Martha Stewart, whose interest has helped with promoting the chocolate shop to a larger audience.
The 500-square-foot space served as the main production plant, as well as a once-a-week retail space. In its first 18 months in business, the company has grown to include a small retail store in the Dime Building downtown and a pop-up location in Ann Arbor, to complement the Thai-inspired Katoi eatery (which is soon to open a brick and mortar restaurant in Corktown).
Now ready for a more permanent investment, Clark purchased a much larger property for $110,000 and plans to spend another $90,000 to build out a completely new commercial kitchen and retail space at 11360 Joseph Campau. With that, she is hoping to eventually to add to her existing team of 10 employees. Clark's father, who is an engineer, will help with the build-out. She says she hopes to have the building ready for use in time for the busy holiday season this year.
"It will be nice to start with a building with really great bones and make it into exactly what we need it to be," Clark tells us.
Clark says during her search for a bigger space, it was important for her to remain in Hamtramck, which has been experiencing a number of ups and downs as of late, with a number of businesses leaving the city. Rock City Eatery is on its way out to Midtown, the city's largest supermarket shuttered last fall, and even a McDonald's location there closed its doors. This, even as several bars have made revivals in town and pop-up venues Yemans Street and Revolver have helped to renew interest in Hamtramck as a food and drink destination.
"I hope that it kind of demonstrates that you really can do business in Hamtramck," Clark tells us. "Doing business here is so wonderful."