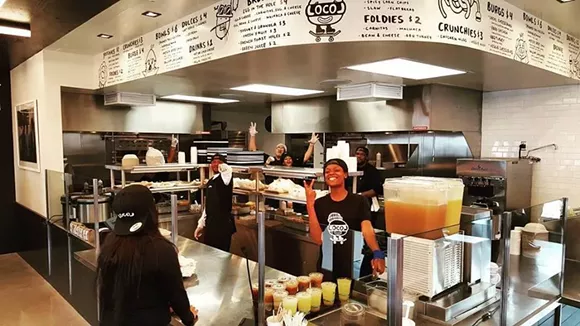 We Detroiters tend to get pumped at the thought of a national chain
finally
making its way to metro Detroit. We saw this in 2013, with the frenzy over Michigan's first Cheesecake Factory in Novi. More recently, we watched as the Internets went nuts over announcements that Mark Wahlberg's
Wahlburgers
chain and
Gus's World Famous Fried Chicken
will be coming to Detroit in the coming months.
It may very well be that underdog mentality that awakens excitement that we're slowly but surely catching up with the rest of the country in embracing all manner of food trends. Still, while decadent slices of cheesecake (that contain some 1,600 calories), celebrity burgers, and "world's best" fried chicken are fun to write about and nosh on on occasion, isn't Detroit ready to embrace a more healthy line of casual dining options?
That's what the Guardian similarly asks about the Los Angeles neighborhood of Watts in a piece about famous LA chef/restaurateur Roy Choi's newest fast food concept, LocoL. The spot opened in January to much hype, in part for Choi and partner Daniel Patterson's name recognition (Choi is widely credited with popularizing the LA street food craze of the late aughts with his Kogi Korean taco trucks, while Patterson boasts two Michelin stars and acclaim for his Bay Area Coi restaurant). LocoL's very deliberate arrival into the South LA neighborhood also marked a turning point the community, which much like most of Detroit, is plagued by generational poverty and has long been considered a food desert.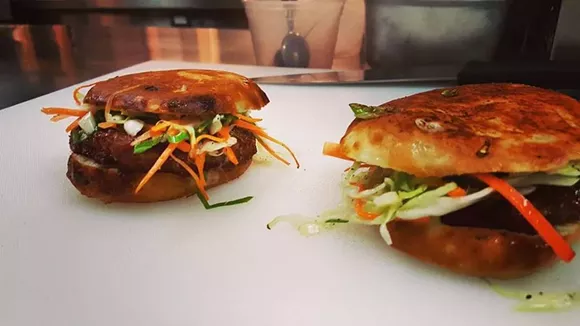 While LocoL is not exactly your plant-based vegan eatery, the menu does boast "real food" offerings, like the Locol Cheeseburg, with Jack cheese, scallion relish, and "awesome sauce," Asian inspired noodle bowls, and tacos (labeled "Foldies"), with turkey BBQ, bean and cheese, and machaca (dried beef or pork). Plus, it offers job opportunities in a community that's oft-overlooked (sound familiar, Detroit?).
We'll let you read the rest of the Guadian's thoughtful piece here.
Interesting thing about LocoL's mission to bringing better food options to the inner city, is that there is buzz that the chain will make its way to Detroit come 2017. A few days ago, Choi, under his Twitter handle @RidingShotgunLA, eluded to future LocoL locations this year in Oakland, Calif., SF's Tenderloin neighborhood, and Detroit, Newark, Ferguson, and other U.S. cities next year.
2016:
Watts
Oakland
Tenderloin
Watts 2 or Compton
2017:
Newark
Detroit
Ferguson
Englewood
West Atlanta#LocoL #onemonthtoinfinity

— Chef Roy (@RidingShotgunLA) February 19, 2016
We put out feelers to LocoL's PR team to confirm the mysterious Tweet. We were asked to check back later this year about Detroit. We'll be doing just that, as well as trying to make our way to the Watts location to check out the food, and also to see the impact it's having in the neighborhood. If the first outpost proves a success, Detroit could very well be poised to be in line.