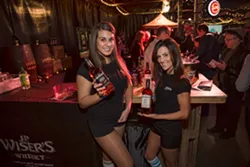 Fans of
MT
's whiskey tasting event, Whiskey Business, will be pleased to know that another edition is on its way.
The bi-annual event is scheduled to take over the Royal Oak Farmers Market on Saturday, Feb. 20 from 7:30 p.m.-11 p.m. with a VIP hour that starts at 6:30 p.m. As usual, a ticket comes with 10 tasting tabs and access to over 100 whiskey brand samples. Food from local vendors will be available for purchase.
This time around there brands like Jameson, Redbreast, Templeton, Pike Creek, Glenlivet, and many others will be on hand with rare whiskeys as well as the standards we've come to know and love. Patrons can look forward to imbibing some creative craft cocktails as their whipped up by bartenders from around the area.
There will be music, dancing, and games. All whiskey lovers, whether novice or aficionado, are welcome. While it's a serious tasting, the atmosphere is light-hearted, inclusive, and fun.
For more info and to buy tickets, click
here
.