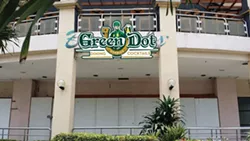 Detroit's own Green Dot Stables is turning to its Malaysian outpost for this week's mystery meat selection: Ikan Bakar,
ClickonDetroit.com reports
. What exactly is Ikan Bakar? Basically, it's charcoal-grilled fish, a traditional street food entree found in in Malaysia and Indonesia.
At Green Dot, Chef Les Molnar blackens European pike, marinated in spices, garlic, lime juice and sambal chili sauce and places it in his signature sliders.
Adding to the city's eclectic and expanding food scene, Molnar has been featuring a weekly rotation of unique meats, pulling inspiration from a variety of cultures since Green Dot's opening four years ago. And with its Malaysian location, the slider bar is also exporting our own local comfort foods across the Pacific. The Coney, for one, is a big hit with Malaysian customers, Driscoll told the TV station.
The ikan bakar slider is only here for the week, so be sure to taste Malaysia goodness while it's around. Green Dot Stables is located at 2200 W. Lafayette Blvd.