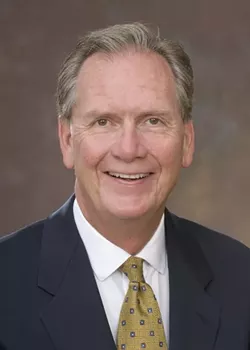 Talk about great timing! If you were Gov. Snyder's chief of staff, wouldn't it be nice right now to be making a quiet and almost unobserved transition into private business, passing without comment because you'd announced your retirement back in the relatively sedate month of August?
That's what happened with the governor's chief of staff, Dennis Muchmore,
who will go to work at Honigman
at the end of this workday. A friend emailed us today, asking us about it, wondering why Muchmore gets off scot-free.
Well, first of all, just because somebody leaves the Snyder administration doesn't mean they won't be hauled up on the stand later or charged with crimes. Hey might end up in irons yet, right?
Second of all,
he's been grilled a bit
about who knew what when already, and as a former employee of the U.S. Environmental Protection Agency, you can be sure he'll remain in demand as a media source.
The only pressing question at this moment is whether to count him in our office over-under on how many members of the Snyder administration leave due to the Flint fallout. His departure was announced in August, and we only began breaking the story in September. This could become a hotly debated matter in our office pool, and may leave the outcome as clouded as a glass of Flint's finest H2O.